Car Buyer Q&A: 2010 Kia Soul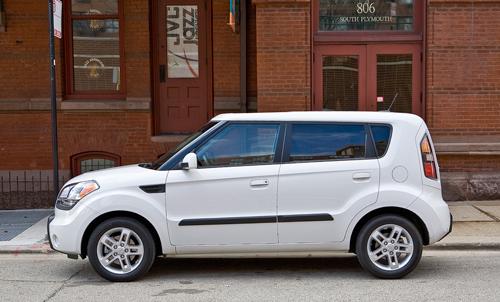 Being an automotive journalist, I get asked all the time for advice on what new car someone should buy. And it's not just family members who come to me; friends, co-workers and even people I have just met want to know what I think.
I'd say my advice is heeded about 25% of the time. Recently, one of my wife's online social network pals asked about some recommendations for her family's situation. She wanted a second car that wasn't too big and could handle kids in a pinch but not daily. They were thinking of the Hyundai Elantra as an economical and affordable compact.
I suggested a few more versatile suggestions, like the Scion xB, Kia Soul and Subaru Forester. And wouldn't you know it, they actually got a Kia Soul. But when I asked the dad of 3-year-old twins, Dan Connelly, what swayed his opinion, it certainly wasn't just my name dropping.
Kicking Tires:
Why did you decide to buy a new car? Was there a change in your life (like a new job, kids, etc.)?
Dan Connelly:
Two reasons made us look for a new car. Our previous car was getting to the point where it would probably start costing us more money than it was worth to keep it running well for a few more years. Also, the backseat of the old car was extremely difficult to get the kids into their car seats in the backseat.
KT:
When did you begin to research your car purchase? How far before you purchased?
DC:
In April, about three weeks before we purchased.
KT:
How did you go about your search? Did you use the internet primarily? Car magazines? Consumer Reports? Friends?
DC:
I used Consumer Reports as a guideline. I also checked car websites frequently. Recommendations from friends were also used as a guideline.
KT:
How did you decide on this brand and model over the competition? What won you over?
DC:
Several factors made us decide on this model. Strong recommendations from friends were highly considered, Consumer Reports and online reviews, test-driving it and finally the personality of the salesman.
KT:
What was the purchasing process like? How long did it take from deciding on the car to walking out the door with the paperwork signed and keys in hand?
DC:
The purchase was very smooth but took several hours to complete. I test-drove the car on a Tuesday night and the next day my wife test-drove it. We bought it immediately after she drove it.
KT:
What was the worst part of the buying process?
DC:
Waiting for the salesman to get all the papers in order and then waiting for the financing to get negotiated.
KT:
Finally, how do you like your car so far?
DC:
It's been a week, and I am very happy so far. It's practical yet a bit hip at the same time. We didn't get all the options that a younger person may have gotten, but we did get a few. There are also some features that are standard which are fun as well, like the speaker lights that pulsate to the music you are playing on the stereo or the glove box that has been designed to hold a laptop computer. It seems like a solidly built car as well.