Motorola H17txt Review: Headset Reads Texts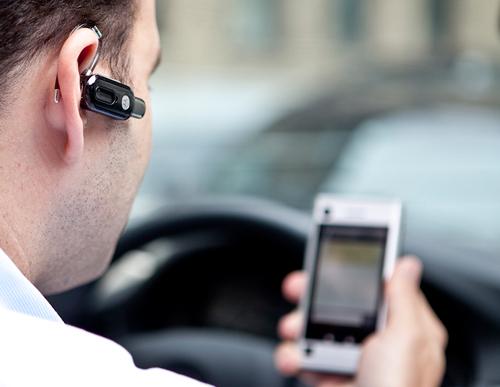 We've spent a lot of time on KickingTires on the topic of distracted driving. We even recently rated
the best apps for reading text messages to you
. But the latest headset from Motorola, the H17txt, does the same, and with amazing quality.
It costs $99 — a plain H17 headset without the text-to-speech ability costs around $40 — and you need to download the free MotoSpeak app for your Android or BlackBerry smart phone to use it. Once paired, I found the H17txt changed my perceptions about getting texts in the car. I exchange texts mostly with my wife, which I'm sure is common for a lot of people. Well, with their significant others, not my wife, I hope. Anyway, on the way home we routinely update each other on traffic and how long it'll be until we get there. And yes, this is done through text mostly, when we're not moving.
But receiving the text alert almost always happens while hands are on the wheel, and messages come out of the blue. My natural instinct is to immediately grab my phone and read the text, and that's why I was really impressed with the H17. It chimes when a text comes in and says, "Text message from Courtney: Just got home, took 40 minutes on the Kennedy," for example.
After a few test messages, I sent out a blanket email to the Cars.com editorial department while I was at home. I asked them to text away to the test unit to see how the H17 holds up to a flurry of messages. I also asked them to be as convoluted as possible.
There was a lot of talk about the Blackhawks winning the Stanley Cup the night before, like "OMG! Did you see that game last night? Kaner totally won it. What a conundrum. … Shave the beard? Or shave the mullet? Shizzy." I guarantee if I hadn't asked for it, the sillier terms wouldn't have been included. I hope.
The device reads only 24 words of each message unless you opt for an upgraded app, but it does read out "Oh my God" for "OMG" and other shortened phrases, like "LOL." Motorola says it can understand 150 of these shorthand phrases.
And if you're wondering, not only did the H17 say "Kaner" properly, it also pronounced Blackhawks goalie Antti Niemi's last name correctly in a different message (or as correctly as any broadcaster does). The first name came out like "ante," which is pretty close, too. The voice is female, but it doesn't sound robotic in the least, like many automated call centers or Ford's Sync system. It's right up there with the best navigation systems' speech function.
When set up properly, MotoSpeak can also send an automated text reply to the sender saying that you can't respond personally because you're driving.
Motorola packed this technology into a pretty tiny, pretty comfortable Bluetooth headset that will pair with any Bluetooth-capable phone. The MotoSpeak app works only with Android and BlackBerry phones, and I asked Colleen Pham, Motorola's marketing manager, about adding iPhone support, and she couldn't comment on future product plans. Colleen could easily work for any automaker; that's their standard line, too.
She also wouldn't comment on future plans for devices to read Twitter or Facebook updates, like Sync does in its latest iteration.
But the company is focused on more tech to tackle distracted driving and planned the launch of the H17txt to coincide with National Safety Month, which is this month. Motorola even has a separate app to educate users on what different hands-free legislation exists for different areas.
The H17txt is a clear example that changes in local laws on hands-free devices are being met with technological innovation. It's a bit pricey, but if you live and die via the text message, it's actually well worth it.