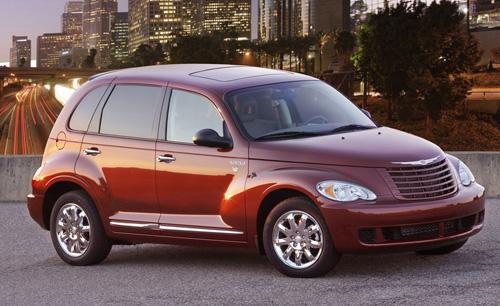 After being on sale for nearly a decade with more than 1.5 million sold, the PT Cruiser was laid to rest Friday, according to enthusiast site ptcruizer.com.
On that day, the last PT Cruiser was built at the Toluca Assembly Plant in Mexico. The model is assumed to be discontinued for the foreseeable future, as Chrysler has yet to announce a successor.
A quick search on Cars.com shows nearly 3,000 new 2009 and 2010 PT Cruisers for sale. With that many available, is now the perfect time to get a screaming deal on a 2010 PT Cruiser?
The 2010 PT Cruiser was streamlined from three trim levels to just one, called the PT Cruiser Classic. Its features include 16-inch alloy wheels, remote keyless entry, power windows, antilock brakes, automatic transmission and five airbags (including a rare knee airbag). Needless to say, this one model comes pretty well equipped at $18,275.
Chrysler is offering $2,000 cash back and a 60-day money-back-guarantee program on the vehicle. With 145 days' worth of inventory left (60 days is considered healthy), many Chrysler dealerships are offering even better deals than the $16,275 after incentives. On Cars.com, we saw models priced at around $13,500 including manufacturer incentives and shipping. Against its direct competitor, the Chevrolet HHR, the PT Cruiser is the better deal in terms of price relative to features. A similarly optioned Chevy HHR costs $16,440 after GM's $4,000 cash-back offer.
However, if your choice is just between these two nameplates, you should consider the fact that the PT Cruiser scored Poor in side-impact crash tests from the Insurance Institute for Highway Safety, while the Chevy HHR scored Acceptable in those tests. The HHR also includes electronic stability control and side curtain airbags; the PT Cruiser does not. The PT Cruiser achieves only 19/24 mpg city/highway – worse than most V-6 midsize sedans – while the HHR achieves 22/30 mpg with a four-speed automatic.
The fact that the PT Cruiser is now discontinued may also affect resale value compared with the HHR. Still, both models have average reliability, according to Consumer Reports.
Clearly, there is a reason Chrysler is discontinuing this storied nameplate. Despite the great content relative to the price, it's still worth considering the HHR over the PT Cruiser Classic.
Related
Chrysler Expanding 60-Day Return Incentive
Chevy Incentives Roll On
2010|Chrysler|PT Cruiser
2010|Chevrolet|HHR