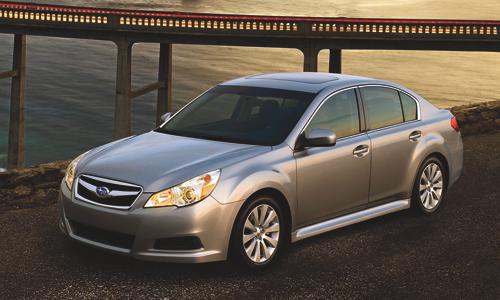 The Legacy was completely redesigned for the 2010 model year. For 2011, there are only some minor content and trim updates to differentiate the two. The 2011 is on sale now, so these changes could help you make up your mind if you're trying to decide between a 2010 and 2011.
The 2011 Legacy is available in 2.5i, 2.5i Premium, 2.5i Limited, 2.5GT Limited, 3.6R, 3.6R Premium and 3.6R Limited trim levels. The 2.5GT Premium trim was dropped for the 2011 model year; it was the base turbocharged boxer engine option and included features like four-wheel-disc ventilated brakes, dual chrome exhaust and 18-inch wheels. The 2.5 GT Limited trim is now the sole turbocharged trim, which comes equipped with a standard power moonroof and fog lights.
The optional Harman Kardon stereo package, which is standard on the Limited trims, now includes XM Satellite Radio. For 2011, all trims come with folding side mirrors standard like the 2011 Outback.
As for pricing, the base Legacy maintains its $19,995 starting price from the 2010 model year, though higher destination and delivery fees will increase the total price by $30. The 2.5i Limited and 3.6R Limited see $300 price increases, thanks to the addition of satellite radio. The updated 2.5GT Limited increases in cost by $1,400.
The 2011 Legacy is already on sale. For additional pricing information, continue reading below.
2011 Subaru Legacy pricing (2010 pricing)
2.5i: $19,995 ($19,995)
2.5i Premium: $20,995 ($20,995)
2.5i Limited: $25,295 ($24,995)
2.5GT Premium: discontinued
2.5GT Limited: $31,395 ($29,995)
3.6R: $24,995 ($24,995)
3.6R Premium: $25,995 ($25,995)
3.6R Limited: $28,295 ($27,995)
Destination: $725 ($695)
2011|Subaru|Legacy