I was a bit skeptical that the new, supposedly larger, family-oriented Toyota Prius V wouldn't be much more spacious than the current Prius because its silhouette, juxtaposed with the existing Prius, doesn't look significantly taller or longer. Hatchbacks like the Prius are known for their versatility and generous room in a small exterior package, how much could they really improve? Apparently, a lot.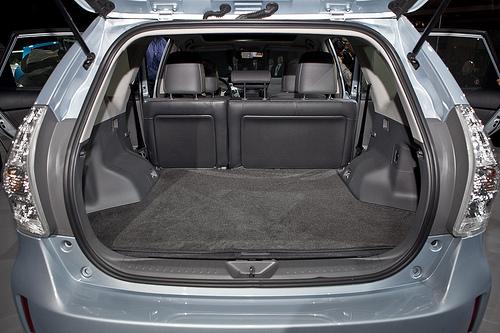 I started my inspection of the Prius V in the cargo area, where it's clear Toyota's goal was to make the most room available. A wide, flat and usable floor stretches almost uninterrupted from one side to the other with little intrusion from the inner wells. Toyota didn't resort to crossover-style designs and their typical higher ride heights to make extra room. This keeps the cargo's load-in height low. I'm 6 feet tall, and the cargo floor is roughly at my kneecaps. Under the cargo floor is additional storage, but the compartments are narrow and probably couldn't fit many standard-shaped cargo items.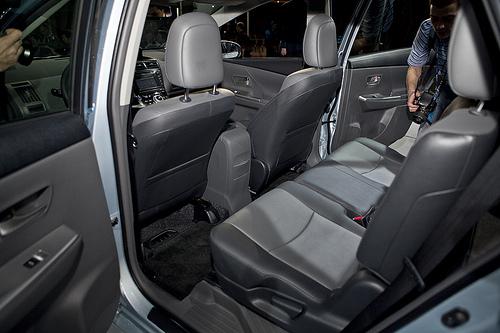 Moving from the cargo area to the rear seats, once again I found more room here than in the regular Prius. Starting to see a trend? In the short time I spent in the backseat, I had plenty of legroom with the rear sliding seats all the way back, and I could stretch my legs comfortably. The rear row is a 60/40 split with each side sliding and reclining individually. Folding the rear seat requires just the pull of one strap.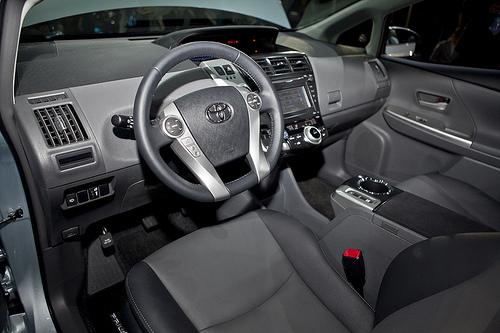 Sitting up front doesn't feel too different from the seating position and height of a regular Prius. There's good visibility looking rearward through the sides, but the C-pillar at the very back creates an unsightly blind spot.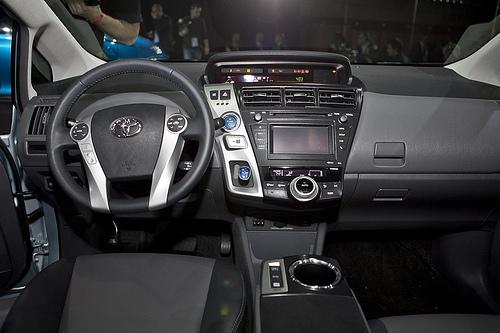 There's a large console area between the front seats with plenty of room for cell phones, wallets or a small purse. It's a nice addition. What isn't as nice is the new center stack controls and dashboard, which seems overpopulated with buttons and screens. There's plenty of space in front of the driver for these items, and I'm surprised it isn't used. This Prius V doesn't waste space anywhere else except here. I must add, though, that I'm not a fan of center displays like the Prius, and the Prius V didn't alter that belief.