Chevrolet Sonic To Join 40 MPG Club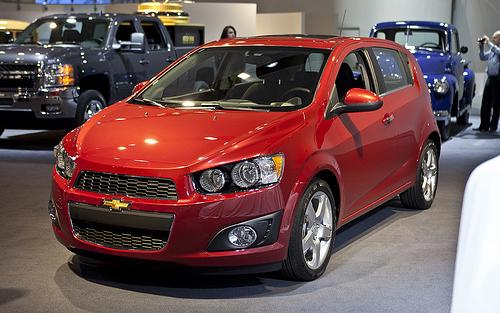 General Motors was mum about the new Chevrolet Sonic's fuel economy when it debuted at the Detroit auto show last week. Now, the automaker states that the subcompact vehicle will offer up to 40 mpg when it goes on sale in the fall.
That figure isn't too much of a surprise, considering that the Sonic is carrying the same powertrains found in the Chevrolet Cruze, which gets a maximum rating of 24/36 mpg city/highway. A Cruze Eco model is estimated to get 28/42 mpg, but those numbers haven't been finalized by the EPA. The Sonic's predecessor, the Aveo, achieved a 27/35 mpg maximum rating, with a manual transmission.
Overall, the Sonic's 40-mpg figure, which is assumed to be highway gas mileage, would be on par with the Ford Fiesta and better than the Honda Fit or Toyota Yaris.