2012 Hyundai Genesis 5.0 R-Spec: Up Close
Looking at the Hyundai Genesis 5.0 R-Spec, you might not think there's a 429-horsepower V-8 under the hood, and that's what I like about it. It's a full-size sedan that promises stout performance in a package that will go unnoticed by most radar gun-wielding police officers. It's even more of a sleeper than the Audi S4 or the dearly departed Pontiac G8 GXP.
That's not to say the Genesis 5.0 R-Spec doesn't have some flair. I particularly like the new headlights, which gain wave-like lighting elements that remind me of the ones from the Sonata Hybrid. On the other hand, I'm not a fan of the 19-inch alloy wheels; the black-painted highlights on them look a little gaudy.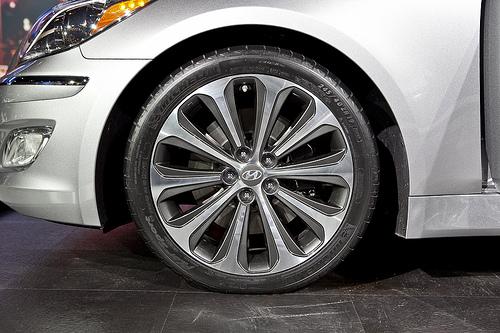 The Genesis 5.0 R-Spec has some subtle styling cues on the inside, like a black leather steering wheel. But otherwise, the spacious cabin carries over mostly unchanged.
Official pricing for the Genesis 5.0 R-Spec, which hits dealerships this spring, hasn't been announced, but Hyundai Motor America President and CEO John Krafcik said the car should start around $45,000. That's around $1,000 more than the current Genesis 4.6, which seems like a performance bargain.