Campgrounds: The Forgotten EV Infrastructure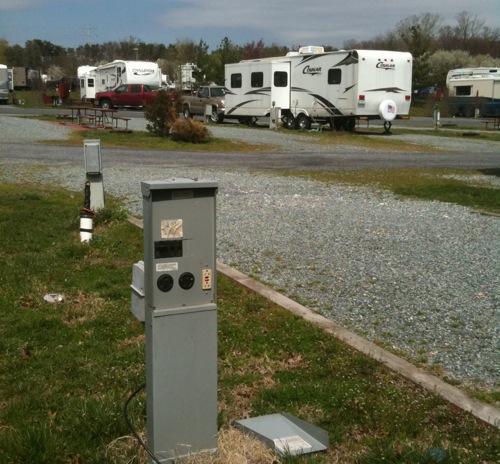 While writing a
piece on the Tesla Roadster
last summer, a Tesla representative mentioned that Roadster owners could recharge the all-electric vehicle at campgrounds and that the entire country was already outfitted with this rudimentary recharging infrastructure.
The idea sounded quaint at the time, with the mental image of a $100,000 sports car sitting amongst RVs for hours. Apparently, campground EV charging is already happening in Maryland where several campgrounds have reported electric-vehicle owners stopping to recharge their vehicles. All these sites are outfitted with 50-amp/240-volt electric pedestals for RVs, which means EVs can recharge in about four hours.
"At this point, I know of five sites that are doing it," said Deb Carter, executive director of the Maryland Association of Campgrounds. "Evidently, it's people planning their trips. The campgrounds have a flat rate, and they take the four hours and wander around the park or use the wireless."
The rate varies, but most campgrounds seem to have a flat rate around $10 for a full charge, and with gas prices hurtling toward an average of $4 a gallon nationally, it's easy to see the appeal of that price scheme. Spending four hours recharging in a campground wouldn't work for a commute, but for a long-distance trip, it could serve as a nice way to break up a drive.
"It started, I want to say, about a year-and-a-half ago," said Mike Gurevich, manager and owner of Cherry Hill Park campgrounds in College Park, Md. "The first one was this guy from the University of Delaware on his way to D.C. He asked if he could charge his car, and I was like, 'Sure.' "
Gurevich was happy to find another way to support environmental concerns, which is the ethos at Cherry Hill Park — winner of the campground industry's Green Award. In addition to having a recycling program before recycling was the norm, Gurevich recently had 44 solar panels installed, providing a third of the power for the campground's office and store.
While Maryland gets 60% of its energy from coal, Cherry Hill Park purchases wind power from farms in the western part of the state and southern Pennsylvania so that it gets 100% of its power from renewable sources. This means that drivers who stop to plug-in at Cherry Hill Park don't contribute a single pound of carbon to the atmosphere.
Gurevich foresees the trend growing, especially now that plug-in vehicles like the Nissan Leaf and Chevy Volt have hit the market.
"It was only a few times last season, but we already had a couple people plug-in about two weeks ago," he said. "I'm expecting to see it a lot more as the season progresses, but I guess it's up to us to get the word out."
Carter admits that using campgrounds to support electric vehicles was not something her association saw coming, but they're diving in with enthusiasm now. She says they're in talks with national electric suppliers and has made contact with her counterparts in Canada. Ideas include a website and a smartphone app that would direct drivers to plug-in-friendly campgrounds.
"To tell you the truth, I don't know why we didn't think of this sooner," she said. "It's such an appealing idea that we've only just scratched the surface of."
Laughing, she continues, "I kind of feel about electric cars and this trend the same way I did about the internet. When I first heard of it, I said to myself, 'Well, who's ever going to use that?' "