Odds 'Good' That Mercedes Brings A-Class to U.S.

Mercedes previewed the next-generation A-Class concept last night at a Mercedes-Benz dealership in New York City. It's a round hatchback whose shape resembles something closer to the Volvo C30 than the current, upright A-Class sold overseas. If it comes to the U.S., the front-wheel-drive compact would signal a stark departure from Mercedes' traditional rear-drive offerings.
That looks to be the case.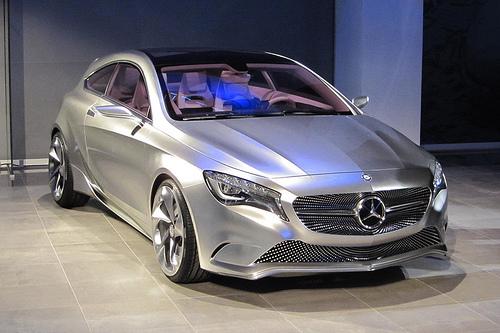 I asked spokesman Dan Barile last night: If he were a betting man, what are the odds the next A-Class makes it here? Barile's response: "Very good."
Small, fuel-efficient cars from luxury nameplates are quite popular in city-clogged Europe, but they've been met with mixed success here. Cars like the C30, the BMW 1 Series and the Audi A3 sell, but only at a small fraction of their larger counterparts, the 3 Series and A4/S4.
Some models, like the Mini Cooper, strike up a dedicated fan base, but the likelihood that U.S. shoppers will snap up the likes of an A-Class appears dubious. Still, luxury carmakers persist: Recent introductions include compacts like the Buick Verano sedan and the hybrid Lexus CT 200h. The CT 200h has been a surprising early sales success.
"It's premium small cars — that's the question," Barile said. "It's all about bringing that average age down."
Nat Sijanta, head of product management for Mercedes' compact cars, characterized the new A-Class as "completely different" from the 1 Series and A3.
"Practicality is more or less the major driving force for today's [European] A-Class," Sijanta said. In attracting younger customers, its successor could ride a wave of "growing demand for premium small cars."
Expect news on the production A-Class – and information on any U.S. version – in the not-so-distant future.