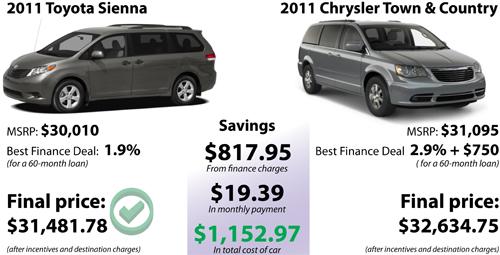 This month, incentives continue to be sparse even as more 2012 model year vehicles arrive at dealerships. That means shoppers need to be savvy about what types of incentives are available, namely low financing offers, and how the right mix of financing can save big money, even if the sticker price is higher than the competition.
2011 Toyota Sienna LE V-6 vs. 2011 Chrysler Town & Country Base

In our recent Minivan Shootout the redesigned Town & Country took the No. 2 spot behind the Honda Odyssey, while the popular Toyota Sienna finished dead last. That doesn't mean the Sienna isn't a good vehicle; it's one of our Best Bets. It also seems to be a better value than the Town & Country in terms of price when similarly equipped and even more so after taking lower financing into account.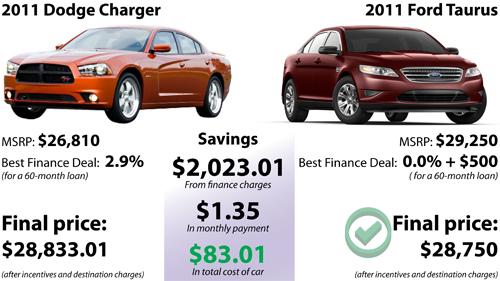 2011 Dodge Charger Base vs. 2011 Ford Taurus SEL
Dodge's redesigned Charger has a big advantage over the Ford Taurus because it has a significantly lower starting price (our price includes Connectivity Group and UConnect Touch). But the 2011 Taurus is getting some attractive financing because a slightly updated model will be released later this year. The current deal negates a nearly $2,400 in pricing, actually making the Taurus slightly more affordable than the Charger.
However, if you're the type of buyer paying cash, even a $1,500 cash back deal from Ford can't negate the better pricing of the Charger.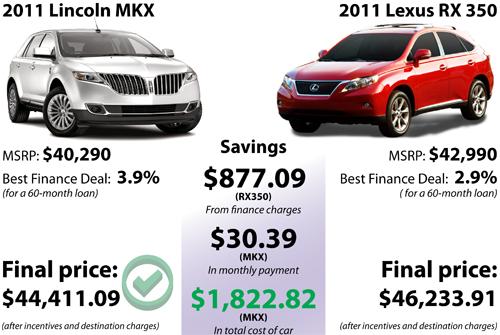 2011 Lincoln MKX vs. 2011 Lexus RX 350
I've driven nearly every model in this segment, and one big shock was how much more comfortable the MKX was compared with the RX 350. The Lexus is still a very good car, both are Best Bets, but it has a pretty rough ride for this segment and a slightly cramped rear seat compared with the MKX. The base, front-wheel drive MKX comes well equipped at a lower price than the front-wheel drive RX with the Package A option package, giving it a sizable buffer even before you take into account Lexus' more attractive financing offer.
Like the Ford Taurus, the MKX also has a $1,500 cash back deal en lieu of financing. So if you're paying cash, you'll save $4,200 by picking the MKX.
*All prices are for similarly equipped vehicles. Equipment levels vary per comparison. Incentives good through July 5.