2012 Ferrari FF Shows Up in Chicago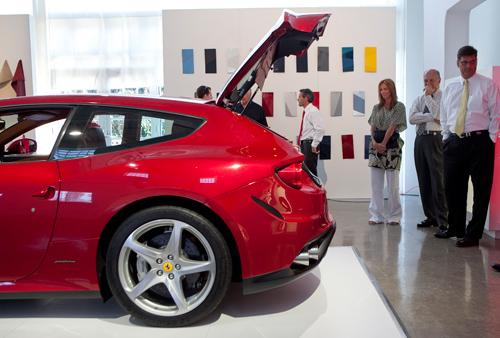 Ferrari brought its successor to the 612 Scaglietti, the all-wheel-drive FF hatchback, to Chicago last week as part of a national roadshow. Of Ferrari's 36 U.S. retailers, the city has two — Lake Forest Sportscars and Continental AutoSports — and each will receive maybe two FFs to deliver at the tail end of the year, Lake Forest general manager Dan Carver said. The Italian brand's flagship, the 660-horsepower FF will find perhaps 200 U.S. owners in 2012. Ferrari's best-selling California sales "easily triple that," Carver said.
Not far from Cars.com headquarters, we checked out the four-seat FF. When it debuted last January, the hatchback's profile rankled enthusiasts, but Ferrari defends its practicality. A nine-year project, the car resulted from Ferrari wanting something that could accommodate four adults and their luggage for a weekend trip while still lapping the automaker's Fiorano circuit in respectable time. In fact, the FF is "as fast around Fiorano as the 599" GTB, presenter Paul Gerrard said.
The car's nose, whose headlights resemble the 458 Italia, gives way to a profile similar to BMW's onetime Z4 coupe. The roofline hangs high until just ahead of the rear window, lending decent backseat headroom. Not that it's spacious back there.
Well, maybe for contortionists: Adults in the second row will have to straddle the front seats with their legs, and the tightly bound front seatbacks make for a hard saddle. Worse confines exist, but as backseats go, the FF is no sedan substitute.
Not that anyone will care. Aside from an old-school Chrysler navigation unit — Fiat owns both brands — cabin materials impress. Less Spartan than the 599 and 458, the FF's interior has carbon fiber and leather aplenty, and the seats feel more accommodating than the Ferrari norm. Inherent of a hatchback, the cargo area is spacious — enough for two sets of golf clubs or luggage for four, Gerrard said. Above them sits a tonneau cover; fittingly, it's also wrapped in cowhide.
Cars.com staff photographer Ian Merritt had a field day at the event. Check out his handiwork below. Click on any image for a larger version.