2012 Scion xB, tC: Ch-Ch-Changes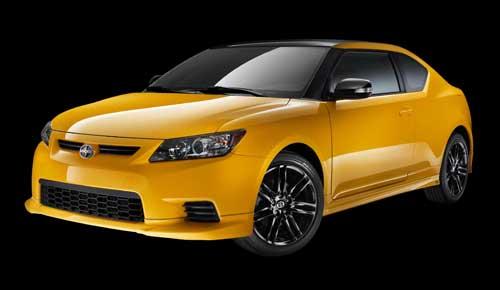 Mild is the word for the 2012 Scion xB and Scion tC in terms of updates. Both get a new stereo and Bluetooth connectivity standard, while prices are held in check for the model year.
The new Pioneer head unit can handle HD radio, Bluetooth phone connectivity and Bluetooth audio streaming. The system also features iPod/USB connectivity, auxiliary port and a subwoofer RCA output. The xB's six-speaker stereo produces up to 160 watts. On the tC, the eight-speaker system makes 300 watts.
Both trims also have a new optional premium stereo with a 5.8-inch touch-screen, iTunes tagging and Pandora radio output via an iPhone. Sound quality is also improved with the uprated radios.
The tC gets a special trim package, called Release Series 7.0. The model will come with special yellow exterior paint (called High Voltage) and black 18-inch alloy wheels. The model will also include Toyota's TRD body kit (optional on other tCs). The kit includes exterior ground effects, such as a lowered front and rear diffuser and side skirts (shown above). The interior includes black and yellow seat fabric and a leather-wrapped steering wheel. Other standard features include a passive entry system and push-button start.
Scion will build only 2,200 Release Series 7.0 trims. It carries an MSRP of $20,905 with a manual transmission and $21,905 with an automatic. Neither price includes a $720 destination charge.
The 2012 xB, which is already on sale, starts at $17,250 with an automatic transmission, excluding $720 destination. The tC starts at $19,575 with an automatic (also excluding $720 destination), and it goes on sale later this summer.