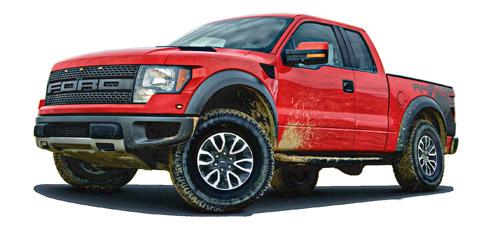 The 2011 State Fair of Texas is currently under way, and Cars.com and PickupTrucks.com editors are down in the Lone Star State
covering the latest in pickup truck-related news
.
One of the first big announcements came from America's best-selling vehicle, the Ford F-150. For the 2012 model year, the four-wheel-drive system gets upgraded on most trims, PickupTrucks.com reports. The system now has a two-speed automatic four-wheel-drive system for the Lariat, King Ranch and Platinum trim levels. There are now four-high, four-low, full-time and all-wheel-drive auto modes on the four-wheel-drive models. Hill start assist is also a new feature, and so is an electronic locking rear axle for the 3.5-liter EcoBoost V-6 and 5.0-liter V-8, all of which are supposed to help improve traction capabilities.
A new, larger fuel tank that can hold up to 36 gallons is now standard on all four-wheel-drive EcoBoost F-150s, boosting the driving range to 750 miles.
The F-150 SVT Raptor gets some performance upgrades for the 2012 model year. A new optional traction-tuned front Torsen differential increases grip significantly for the front end of the truck, according to PickupTrucks.com. A new front-end camera on the Raptor helps the driver navigate tough terrain at slow speeds.
To get more nitty-gritty details, continue reading at PickupTrucks.com.
Ford Gives F-150s More Range, Content
Ford Unveils Changes for 2012 F-150 SVT Raptor