Auto Industry Succeeds on the Backs of Just a Few Models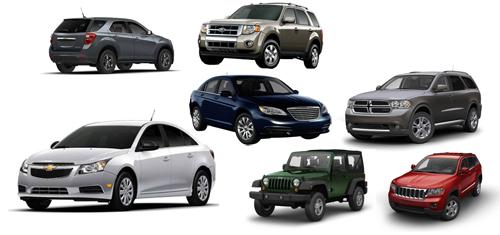 Despite a hurricane on the East Coast and an economy on shaky legs August's car sales showed year-over-year gains for most automakers, with American-made cars carrying a hefty load.
Late last month the Los Angeles Times profiled the auto industry as a sector responsible for huge job growth and significant investment.
If so, there will be a relatively small group of car models to thank. The 10 brands from the Detroit Three, as a group, saw sales jump 20% in August as the market climbed 8% overall. Nearly one out of every five of those extra 85,717 sales came from the Cobalt-replacing Chevrolet Cruze. The Cruze, Chrysler 200 and five domestic SUVs (Dodge Durango, Chevrolet Equinox, Ford Escape and Jeep Grand Cherokee and Wrangler) accounted for 58% of the increases reported by Detroit automakers.
With lower incentives on affordable models and the very nature of SUVs as more expensive vehicles, domestic manufacturers are finding greater volume on the backs of pricier products.
It also says something about consumer confidence. Ford, for example, sold almost the exact same number of 2012 Explorers and Edges (base prices of $28,170 and $27,640) in August as 2012 Focuses and Fiestas (base prices of $16,500 and $13,200). The Focus likely would have sold more, but it is experiencing supply issues. Moreover, Jeep and GMC, which don't even have any traditional passenger cars to offer, were up 58% and 40%, respectively. Is it good for Detroit automakers to rely so heavily on SUVs to power growth? As a group, cars accounted for just 18% of the domestic automakers' year-over-year improvement. True, car sales at Ford, Lincoln, Dodge, Chrysler, Buick, Cadillac and Chevrolet combined to grow 10% year-over-year, which is significantly better than the overall passenger-car market's 1% decline.
For the most part there are two models to thank for the growth. Imagine there was no Chevy Cruze or Chrysler 200 and sales of their predecessors, the Cobalt and Sebring, had remained level: August car sales among Detroit brands then would have been down. The small improvements reported by other models weren't enough to offset year-over-year drops posted by high-volume sellers like the Chevrolet Malibu and Impala, Ford Focus and Taurus, Dodge Charger and Chrysler 300.
All this stands apart from the impact of pickup trucks on the American marketplace. Though combined sales of Detroit's four full-size truck lines rose only 6.5% in August — the additional 7,743 truck units represent just 9% of Detroit's August growth — the Ford F-Series, Ram trucks, Chevy Silverado and GMC Sierra accounted for 23% of all U.S. brand sales.
Without the growth displayed by just seven models from Chevrolet, Chrysler, Ford, Dodge and Jeep the Detroit Three's August year-over-year results would have been up 8% instead of 20%. The impact these vehicles had on August's car market is perhaps even more telling when calculations are performed on a more wide-ranging equation. Without the 49,768 extra sales brought about by the Cruze, 200, Durango, Equinox, Escape, Grand Cherokee and Wrangler, the overall market — including ever Japanese, Korean, German and luxury car — would have risen just 2.5% instead of 7.5%.