2012 Hyundai Veloster: Car Seat Check
From the driver's side of the all-new 2012 Hyundai Veloster, it looks like a sporty coupe. Walk around to the passenger side, and presto chango, there are two doors instead of one. In truth, the Veloster is a three-door hatchback. While a three-door car sounds odd, it makes life a lot easier if you're loading kids and their child-safety seats into this four-seater versus a similarly sized coupe.

For the Car Seat Check, we use a Graco SnugRide 30 rear-facing infant-safety seat, a Britax Roundabout convertible child-safety seat and Graco high-back TurboBooster seat.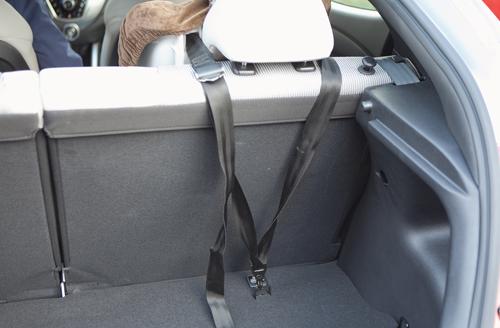 The front seats are adjusted to a comfortable position for a 6-foot driver and a 5-foot-8 passenger. The three child seats are installed in the second row. The booster seat sits behind the driver's seat, and the infant seat and convertible seats are installed behind the passenger seat. We also install the infant seat in the second row's middle seat with the booster and convertible in the outboard seats to see if three car seats will fit. If there's a third row, we install the booster seat and a forward-facing convertible.

Here's how the 2012 Veloster did in Cars.com's Car Seat Check:

Latch system: The Veloster has two sets of lower Latch anchors in its two rear seats. The anchors stick out from between the seat cushions, making them easy to use. The two tether anchors (photo above) are found on the cargo area's floor, close to the seatbacks.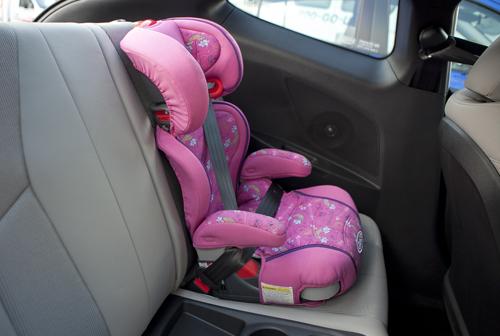 Booster seat: The Veloster's seat cushions are bolstered, pushing our high-back booster toward the car's middle. The seat belt buckles are on stable bases and should be easy for kids to use independently.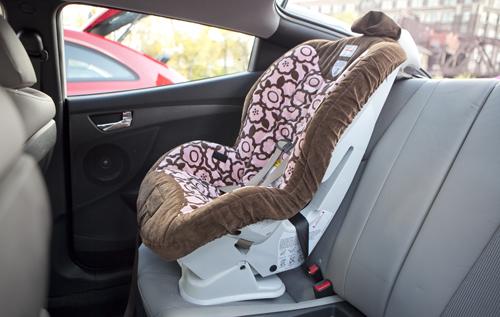 Convertible seat: Both the forward- and rear-facing convertible fit well in the Veloster's second row.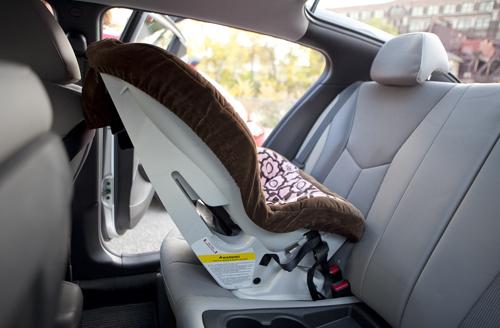 Infant-safety seat: We had to move the front passenger seat forward one click to create enough room in the second row to fit the rear-facing convertible. This left about a half-inch of space between our tester's knees and the glove box.


How many car seats fit in the second row? Two

Editor's note: For three car seats — infant-safety seat, convertible and booster seats — to fit in a car, our criterion is that a child sitting in the booster seat must be able to reach the seat belt buckle. Parents should also remember that they can use the Latch system or a seat belt to install a car seat.