Honda Accord Coupe Concept at the 2012 Detroit Auto Show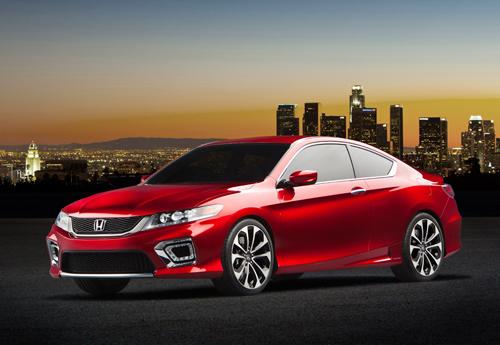 Looks like: A more voluptuous Accord coupe
Defining characteristics: Not silver, more curves instead of hard edges
Ridiculous features: 20-inch wheels, rear exhaust exiting through bumper
Chance of being mass-produced: Sure thing; the new Accord goes on sale this fall
The Honda Accord Coupe Concept is a preview of the next-generation Accord that goes on sale this fall. Honda typically stays true to its concepts, so we don't expect the coupe to look too different when it hits dealerships. This concept is so close to production that Honda announced detailed engine and transmission options.
More 2012 Detroit Auto Show Coverage
The overall size is unchanged from the current coupe, but the trapezoidal shapes and hard edges are toned down and replaced by a more curvaceous style in the hood and fenders. The front end is more upright with larger grilles for a more aggressive look. The concept's profile isn't too different from the 2012 coupe, with a similar raked body line that climbs upward toward the rear. Around back, the lip spoiler molds into the body, and the exhaust dumps out mid-bumper instead of underneath, a style with a lesser chance of making it to production.
Honda's latest generation of engines and transmission will power the coupe, including a 2.4-liter four-cylinder with direct injection making 181 horsepower and a more powerful 3.5-liter V-6. The four-cylinder pairs with a six-speed manual transmission or a continuously variable automatic transmission that will be an improved experience over many of the "rubber band" CVTs out there now, Honda says. The six-cylinder has a new six-speed automatic transmission to replace the current five-speed unit, and fuel economy is expected to improve across the board.