Nissan CEO Talks New Cars, Sales Expectations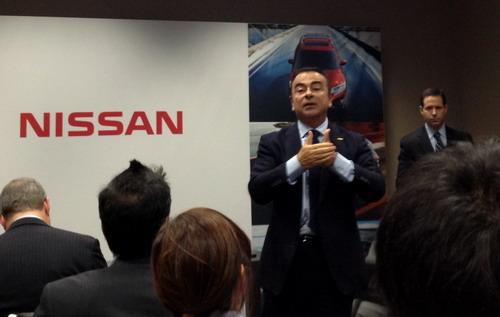 By any account, Nissan had a good year. Despite challenges in Asia and weakening consumer confidence in debt-ridden Europe, the Japanese automaker outpaced analysts' expectations for profits over the first half of its fiscal year, which ended last September. By year's end, Nissan's U.S. sales, including its Infiniti luxury division, improved 15%. Toyota and Honda ended 2011 with sales down 7% apiece, but they were greatly impacted by last year's tsunami in Japan, leading to far less dealership inventory than Nissan.
Ask CEO Carlos Ghosn to characterize Nissan's smooth sailing, and he tempers expectations: "If people are not upbeat, it's good," he said. "The company is moving into the right direction, even [though] there are a lot of headwinds."
Ghosn, 57, has been Nissan's chief executive since June 2001; he also oversees French automaker Renault, which has been allied with Nissan since 1999. He discussed Nissan's outlook for 2012 during this month's Detroit auto show, as well as at the Automotive News World Congress in Detroit the same week.
Major products like the Altima and Sentra — Nissan's first and third best-sellers in 2011, respectively — are set for redesigns this year. Both cars have been in their current guise since late 2006, and both are part of a global barrage that will include a new product every six weeks on average through 2016, Ghosn said.
Expect the next Altima Hybrid to take a more "substantial" position in the portfolio than the previous version, he said. The first Altima Hybrid, which Nissan ended after 2011, was available only in California and several other states.
Consumer demand for the all-electric Leaf, meanwhile, outstrips the automaker's production capacity — but EVs still have a long way to go. Of some 75 million cars sold worldwide in 2010, just 20,000 were electric, Ghosn said. Until that figure hits 500,000 to 1 million, "it's going to be difficult" for electric cars to sell without government subsidies.
What about a U.S. car priced below the Versa? Ghosn threw water on such prospects. U.S. safety and fuel-economy requirements make bringing micro cars sold in other countries to the U.S. difficult.
Nissan sells the Micra in India for less than $8,500 at current exchange rates. But U.S. safety requirements — for all the advantages they render — would result in such runabouts arriving much pricier. Indeed, it fuels the notion that America's $10,000 new car could be a thing of the past.
"Let's not forget that Americans have very fundamental specifications on their car that are unique to fulfill," Ghosn said. Low-cost international cars can't simply show up at U.S. dealerships, but Ghosn wants Nissan or Infiniti to be present in every single established U.S. market segment.
For example, it took until this year for Nissan to introduce a three-row crossover to compete with its major rivals from Japan and the U.S. Like Ford did with its Explorer, Nissan has redesigned its Pathfinder SUV to fill the popular family-SUV segment.
Ghosn expects U.S. auto sales in 2012 to increase to 13.8 million, up from last year's 12.8 million. Eventually, he wants Nissan to reap 10% of that pie — a big climb from 2011's 8.2%. Nissan needs to accomplish that without piling on low-profit fleet sales, which can ding resale values down the road. The automaker trails the fleet-heavier Detroit Three, but fleet sales jumped 29% for Nissan in 2011, Automotive News reports.
In the end, Nissan's shot at 10% of the market hinges on the tried-and-true: products, products, products. The Altima, Sentra and Pathfinder will have to be successful to hit that mark.