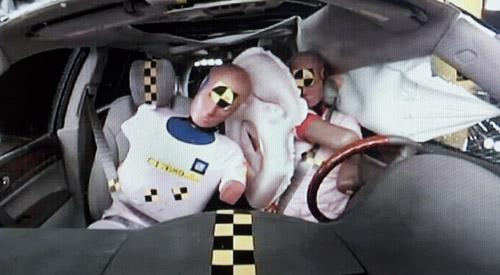 On the heels of Ford's airbag-like inflatable rear seat belts and Scion's rear-window airbag, GM introduced a front-center airbag that deploys between the front seats in its 2013 Acadia. Safety experts have lauded developments like side curtain airbags, which protect your head and lessen the chance of ejection during rollovers, but not all airbags are created equal. The Insurance Institute for Highway Safety told us last fall that knee airbags, for one, have yet to prove their worth. What about GM's front-center airbag? IIHS says there's no hung jury here: It's a safety improvement.
The airbag, which will be optional on the Acadia, deploys from the right-hand side of the driver's seat during a serious side-impact collision from either side, chief engineer Sue Eckel said. In a serious side-impact, the barrier between the seats can prevent two occupants' heads from knocking against each other.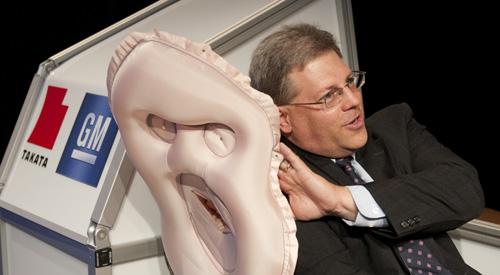 "Head knocking in side crashes are a significant contributor to injury, and sometimes worse than [side-impact] injury" alone, Eckel told Cars.com at the Chicago Auto Show last week. "So the idea was, let's prevent passengers from knocking heads." Even with no front passenger, Eckel said the airbag is "absolutely" useful for drivers: The "curtain airbag protects the driver, but once we've made that motion [toward the window], you're going to have an equal and opposite reaction" that can cause its own injuries.
IIHS agrees."We were very pleased to see GM doing this," IIHS spokeswoman Anne Fleming said. "Very often that driver moves toward the center of the seat when the curtain comes down. ... It's a good thing to be cushioned on both sides." Fleming said she couldn't quantify the exact benefits of a center airbag to those driving solo, but she corroborated Eckel's claim that the center airbag does some good.
"Cushioning is good in a crash, and it's extra cushioning," Flemming said. "These things are all degrees of protection." The 2013 Acadia goes on sale late this year. There's no word yet if the center airbag will become available on its corporate siblings, the Chevrolet Traverse and Buick Enclave.