2012 Infiniti FX35 and FX50: Car Seat Check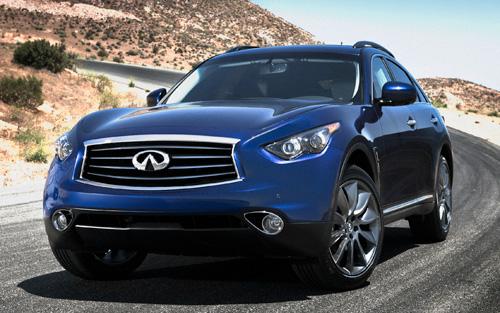 With its stylized exterior, the 2012 Infiniti FX35 and its more powerful sibling, the FX50, don't look like your average family-hauler. What surprised us in this Car Seat Check is how well our child-safety seats fit into this five-seater. We tested the FX35, but the FX50 has the same interior and exterior dimensions.
For the Car Seat Check, we use a Graco SnugRide 30 rear-facing infant-safety seat, a Britax Roundabout convertible child-safety seat and Graco high-back TurboBooster seat.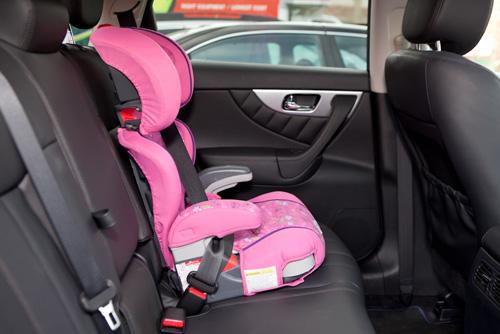 The front seats are adjusted to a comfortable position for a 6-foot driver and a 5-foot-8 passenger. The three child seats are installed in the second row. The booster seat sits behind the driver's seat, and the infant seat and convertible seats are installed behind the passenger seat. We also install the infant seat in the second row's middle seat with the booster and convertible in the outboard seats to see if three car seats will fit. If there's a third row, we install the booster seat and a forward-facing convertible.
Here's how the 2012 FX35 and FX50 did in Cars.com's Car Seat Check:
Latch system: While we were surprised by how well child-safety seats fit in the FX, the Latch system was difficult to use. There are two sets of lower Latch anchors in the outboard seats, but they're difficult to access because they're recessed between the seat cushions. We also had a tough time finding them. They're hidden behind slits in the leather seats, and the Latch icons on the seats aren't anywhere near the anchors' locations. Three tether anchors are midway down the second row's seatbacks. The tethers sit tightly against the seatbacks, making them difficult to use.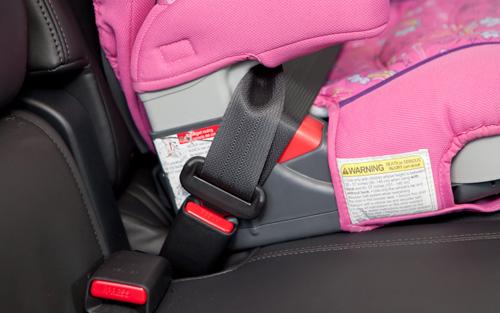 Booster seat: The booster seat fit well in the FX's bolstered seats. The outboard seat belt buckles are on bases that are somewhat stable. The middle seat's buckle is floppy.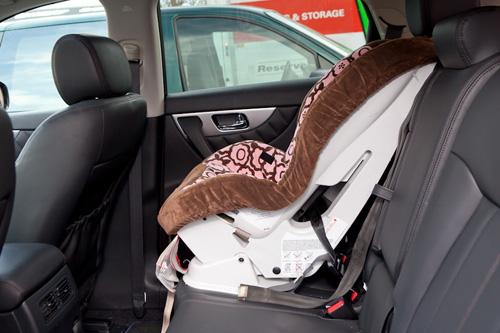 Convertible seat: The forward- and rear-facing convertible car seats fit well in the FX. This was helped by the second row's reclining seatbacks, which made it easier to get a good fit.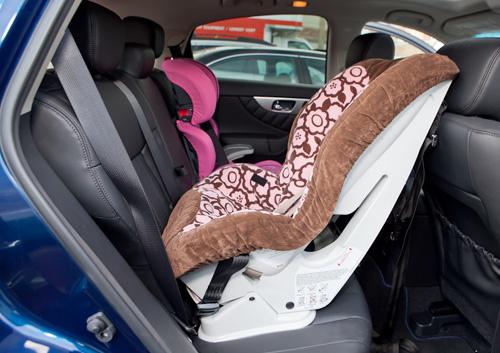 Infant-safety seat: To fit this rear-facing car seat, we moved the front passenger seat forward less than an inch. The front passenger still had plenty of knee and legroom.
How many car seats fit in the second row? Two
Editor's note: For three car seats — infant-safety seat, convertible and booster seats — to fit in a car, our criterion is that a child sitting in the booster seat must be able to reach the seat belt buckle. Parents should also remember that they can use the Latch system or a seat belt to install a car seat.