2012 BMW M6 Convertible: Up Close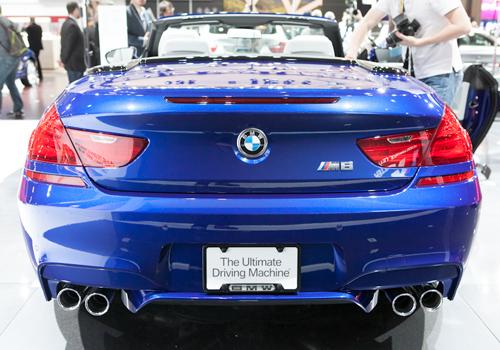 The 6 Series is a classy convertible in its own right with great lines and proportions, and its transformation into the high-performance M6 adds an aggressive front bumper and introduces the spectacular San Marino Blue metallic paint color you see here.
More 2012 New York Auto Show Coverage
The M6's turbocharged V-8 makes an impressive 560 horsepower, but what really stands out are the available 16-inch front brake rotors, which are massive by production-car standards and are gripped by huge calipers. They're so big that 20-inch wheels have to be paired with the brakes to ensure there's enough clearance, according to BMW. All in all, they look like a good ally against brake fade.
The M6 convertible hits dealerships this June and starts at $113,100 plus destination. That price includes BMW's dual-clutch automatic transmission. A traditional manual with a clutch pedal isn't offered, but BMW says it could offer one if customers demand it — just like the M5 sedan, which is available with a six-speed manual in the U.S.