With its redesign for 2013, Lexus reworked the GS' handling, exterior looks and interior quality. The midsize sedan seats five and backseat passengers will enjoy the heated outboard seats — assuming they're not strapped into child-safety seats.
For the Car Seat Check, we use a Graco SnugRide 30 rear-facing infant-safety seat, a Britax Roundabout convertible child-safety seat and a Graco high-back TurboBooster seat.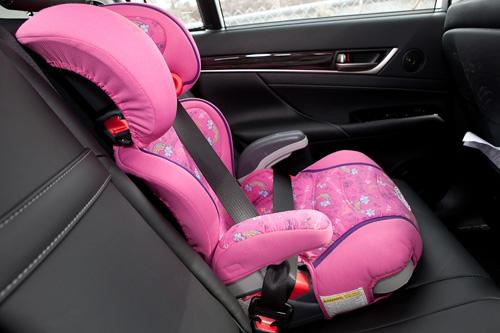 The front seats are adjusted to a comfortable position for a 6-foot driver and a 5-foot-8 passenger. The three child seats are installed in the second row. The booster seat sits behind the driver's seat, and the infant seat and convertible seats are installed behind the passenger seat. We also install the infant seat in the second row's middle seat with the booster and convertible in the outboard seats to see if three car seats will fit. If there's a third row, we install the booster seat and a forward-facing convertible.
Here's how the 2013 GS did in Cars.com's Car Seat Check: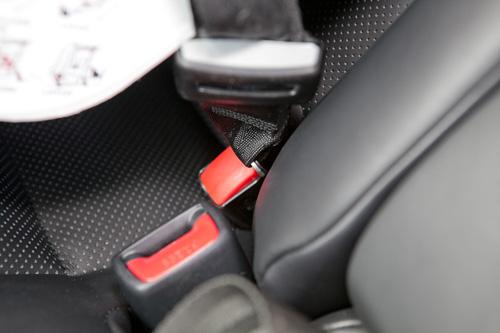 Latch system: Two sets of lower Latch anchors are found in the outboard seats. They're a little difficult to use because the anchors are buried between the seat cushions. The large inboard seat bolsters — closest to the middle seat — make it hard to access the inner Latch anchors. Traditional Latch connectors, which are on our infant-safety seat, are easier to use in the GS than the bulkier rigid connectors. Thankfully, the three tether anchors, which sit behind the head restraints on the rear shelf, are easy to use.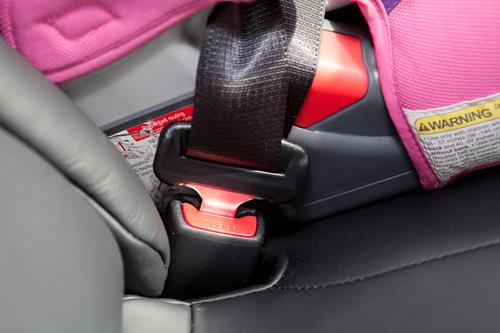 Booster seat: Though I was complaining about the large seat bolsters when it came to Latch access, they didn't cause problems with our high-back booster seat. The outboard seat belt buckles are stable, making them easy for kids to use on their own. The middle seat's buckle is floppy.
Convertible seat: Both the forward- and rear-facing convertibles fit well in the GS. The backseat had plenty of room for the rear-facing convertible, but parents should note that the GS' rear seats don't recline.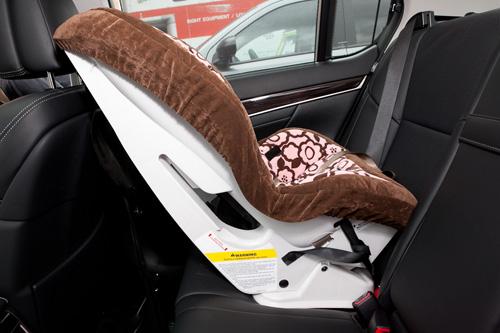 Infant-safety seat: This rear-facing seat also fit well, with no need to move the front passenger seat forward.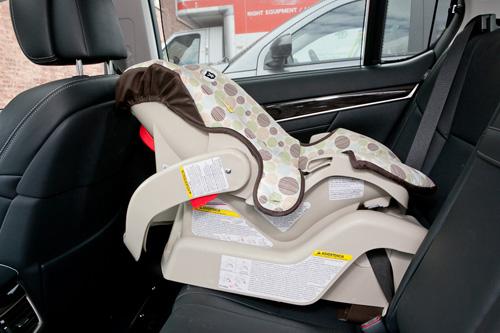 How many car seats fit in the second row? Two
Editor's note: For three car seats — infant-safety seat, convertible and booster seats — to fit in a car, our criterion is that a child sitting in the booster seat must be able to reach the seat belt buckle. Parents should also remember that they can use the Latch system or a seat belt to install a car seat.