2013 Mercedes-Benz SL65 AMG: Up Close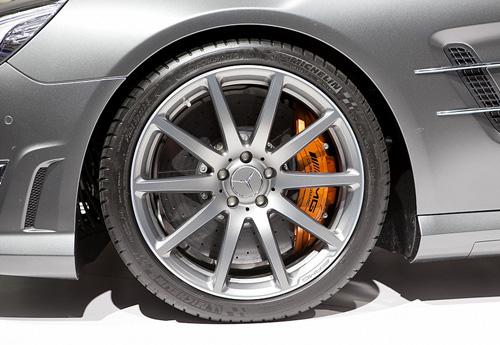 If the recession left your billions of dollars unscathed, look no further than Mercedes' SL65 AMG. The 621-horsepower roadster hits 60 mph in 3.9 seconds; its turbo V-12 makes a stump-pulling 738 pounds-feet of torque. Lehman Brothers was lame, man: You're still filthy, stinking rich.
More 2012 New York Auto Show Coverage
Perhaps I'm jealous. A 12-cylinder version of the imposing new SL was all but inevitable, and the SL65 packs stupefying numbers. The show car's matte gray paint, carbon fiber mirrors and carbon fiber front air splitter look menacing, as do the massive 15.4-inch front brake discs – the size of the dinner plates on which the 1% eat carefully arranged morsels with unpronounceable names. (Fine; I'll stop.)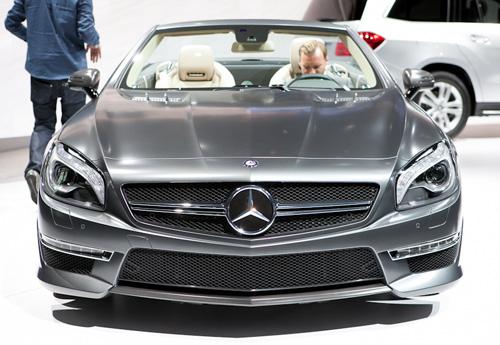 It's an imposing car – not necessarily pretty, but impossible to ignore. Mercedes spokesman Christian Bokich told me the styling changes essentially mimic the SL63 AMG, which goes on sale four months before the SL65's November on-sale date.
Certain details disappoint, however. Get beyond the twin chrome grille spokes and the mesh inserts are still plastic. Worse still, the mesh inserts ahead of the front fenders are ... fake. They lead to plastic backings. Lesser SL roadsters already wrap the dash, doors and console in leather; the SL65 on the show floor went a step further with leather-wrapped windshield surroundings all the way down the A-pillars.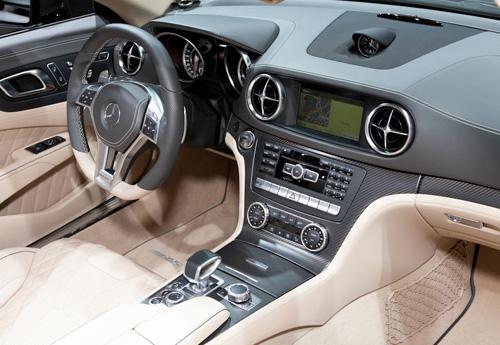 Sitting back-to-back in an SL550, I noted real metal paddle shifters in the SL65 versus a duller finish in the SL550. It's possible that Mercedes' myriad options allow an SL550 owner to get similar trim. AMG versions get sport seats, a speed timer in the gauges and a crest logo with "Affalterbach," a reference to the German hometown of Mercedes' AMG division.
Mercedes says the SL65 is 254 pounds lighter than before, and AMG chairman Ola Kaellenius told reporters it should be 17% more fuel efficient than the prior SL65 AMG, which the EPA rated at 12/18 mpg city/highway. Full EPA ratings are still pending.