Acura RLX Concept at the 2012 New York Auto Show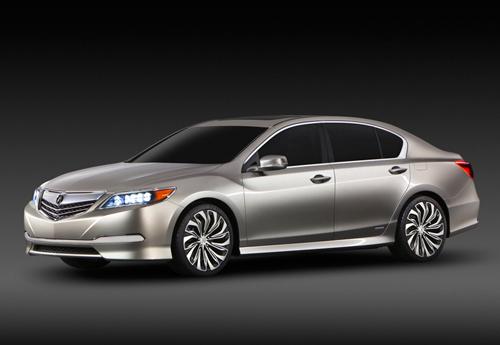 Looks like: A very sensible sedan, boring but sensible
Defining characteristics: Big power and mileage
Ridiculous features: Does the generic design count?
Chances of being mass-produced: This is what the real thing will look like
Acura has been beaten up — oftentimes unfairly — for its last generation of car designs. What started as a shield on the MDX became a beak on the TL and so on and so on. Acura is trying to tone done the aggressively odd looks with its most recent releases, the RDX and ILX. They work well in a conservative way.
More 2012 New York Auto Show Coverage
The RLX Concept is the company's flagship sedan and should make a statement about the brand's direction, but instead it simply looks like it's stuck in Neutral.
While Acura calls the RLX a concept, the production version likely will look nearly identical when it goes on sale in early 2013. See, Acura doesn't even get wild with its concept cars.
On a positive note, there is word that the hybrid all-wheel-drive system mentioned for the NSX sports car would be available on the RLX. The numbers attached to the RLX's version will likely be trumped by the NSX, but the sedan will feature a 3.5-liter V-6 teamed to three electric motors to produce more than 370 horsepower combined. It will be teamed to a seven-speed dual-clutch transmission and is estimated to return mileage of 30 mpg in the city, highway and combined.
A more pedestrian 310-hp V-6 with front-wheel drive will anchor the car's lineup as the base model.
We are intrigued to see the inside where a new multimedia system will feature two LCD screens. An 8-inch screen will be a display while a second 7-inch touch-screen will be used to control the stereo, climate control, navigation and a voice-to-text-message system.
We've been wary of touch-sensitive controls in other models, and the RLX's multimedia system sounds like it could be as distracting a setup as we've seen.
There will be a 14-speaker "ultra-premium" audio system to blast out tunes from USB- or Bluetooth-connected devices. It will even be able to generate audio feeds of your Twitter or Facebook streams.