Cars.com Buzz Index: April 2012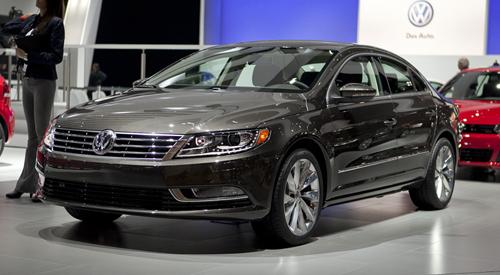 The Volkswagen CC, whose
restyled 2013 model
hit dealerships recently, tops this month's Buzz Index as the car with the highest gain in popularity on Cars.com. Perhaps it's a good sign that shoppers are interested in this coupe-like sedan, which was popular when it launched in 2008 but has seen sales fall 31% through the first quarter of 2012 versus last year. Volkswagen sales overall were up 41% during that time, which means the CC may be getting some secondhand interest from Passat and Jetta shoppers.
The rest of the list shows interest is growing for cars that aren't the most fuel efficient on the lot: sports cars, SUVs, trucks, minivans and large sedans.
Fuel efficiency still rates high for car shoppers, but plateauing gas prices — though still high — have stripped the sort of gains in interest that would land such cars here. Indeed, rising gas prices in the early months of 2012 brought five cars with an EPA highway rating of at least 40 mpg in some variant to March's Buzz Index. April's index has zero.
That doesn't mean fuel efficiency is passe, however. The Toyota Prius, a yardstick for high-mpg popularity, still saw dealer contacts on Cars.com jump by 45.3% this month.
Here is April's Top 10 on the Buzz Index:
Since many of these cars are of the aging variety, we suspect incentives may be fueling the interest for car shoppers looking for a bargain. Saving an extra grand or two on a less-efficient car at the dealer would take some of the sting out of your trip to the pump.
Top 10 in Overall Activity
The top cars that rank by total shopper interest — as opposed to those that are seeing a large flux, like in the Buzz Index — don't change as much from month to month. Apart from a few perennial high-interest cars, like Detroit's muscle cars, they generally follow the market's top sellers. A few shuffled around this month, with the Dodge Charger moving up five spots and the Volkswagen Jetta landing in the top 10. The Ford Focus, which appeared last month, dropped off after big incentives expired in March.
Here is April's top 10:
About the Buzz Index
Cars.com's Buzz Index analyzes data from thousands of Cars.com shoppers, looking at which cars have the highest increase in search and dealer-contact activity, with a floor to eliminate bit players. Index values analyze which cars garner the highest month-over-month increase in shopper activity — the movers and shakers — not which cars have the highest total activity, which stays comparatively similar. For each car, the index regards the most recent model year.