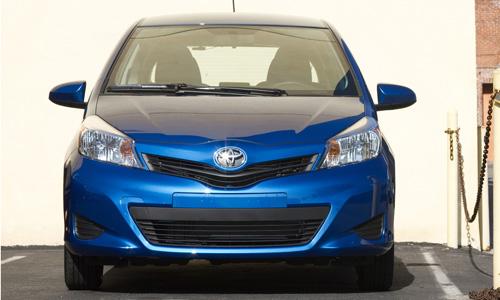 We usually make our weekend plans long before I know what I'll be driving, and my family's plans don't change for anything—not even a
2012 Toyota Yaris
. The plans: grocery shopping, picking up a large birthday gift and hauling some shrubs for a landscaping project. The challenge: How much stuff could I cram into Toyota's subcompact? Especially after seeing how it didn't come close to the competition in our recent
$16,000 Subcompact Shootout
when it comes to cargo space.
The Yaris fit more than you'd think, actually, but first let's go back to 2007, when it first hit the market. I drove it then and was underwhelmed by its pokey powertrain, lack of ride composure and high level of road noise. It scored points, however, for its decent fuel economy and its maneuverability.
A lot has changed since then—more with me than the car. I carry a lot more stuff now. As a homeowner and mom, I have more baggage than I did in 2007, which means there's always a child-safety seat in the backseat, a diaper bag in the trunk, and when we grocery shop, we fill the car to the brim. Last weekend was like any other, except the Yaris is one of the smallest vehicles I've tested in a long time.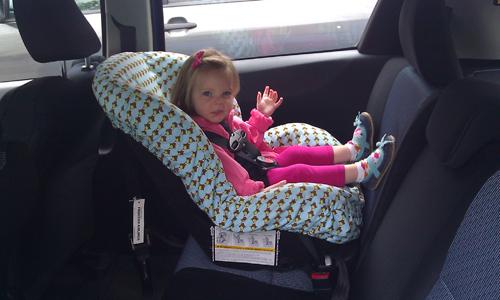 Toyota's tiniest car is available in two flavors: two- and four-door hatchback models. The sedan version was dropped for model-year 2012. Prices start at $14,115 for a base two-door. I drove a four-door hatchback in the top- of-the-line SE trim with a sticker price of $17,200. Add $180 for floor mats and the $760 destination fee, and my test car's final price was $18,140.
In the four-door model, available cargo space behind the rear seats is 15.6 cubic feet. Not bad when you consider that the Mazda2 only has 13.3 cubic feet of space, but it's crummy when you look at what's available in the Chevy Sonic and Hyundai Accent—19 and 21.2 cubic feet, respectively. The Yaris' cargo room expands when the 60/40-split folding backseat is down—unless you're in the base version. Then you're out of luck; the L model's seat only folds in a single piece.
In total, I drove the Yaris 160 miles over two days and four outings of various cargo necessities. Here's how it performed:
Trip One: On our first trip out, the Yaris only had to take my daughter and me to brunch. Her rear-facing convertible child seat took up a lot of space in the second row, stealing several inches of front passenger legroom. For this trip, that seat was empty, so the two of us had plenty of space. My daughter's regular stroller was too large for Yaris's cargo area, however, so I had to downgrade to the smaller umbrella stroller for the trip. It easily fit.

Trip Two: After brunch, it was off to the toy store to pick up an early birthday gift for my almost 2-year-old. The toddler picnic table I had chosen came in sizable box measuring 11.8 by 17.8 by 29.5 inches. It barely fit in the cargo area. Though it took up all available space, it was convenient that I didn't have to put one of the seats down to make it fit. We had to stash the stroller in the backseat, however. Don't worry; at her age, my daughter will still be surprised on her birthday.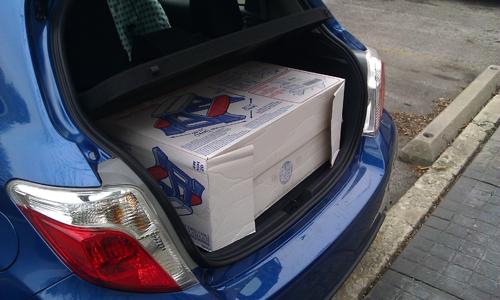 Trip Three: The Yaris' biggest test was when we took it to Home Depot. Since my 6-foot husband joined us for this trip, his knees were practically in the glove box thanks to the child seat installed behind him. The backseat also held two 3-foot trees, and the cargo area was loaded with three shrubs and several trays of ivy. The three of us miraculously found space for the short ride home.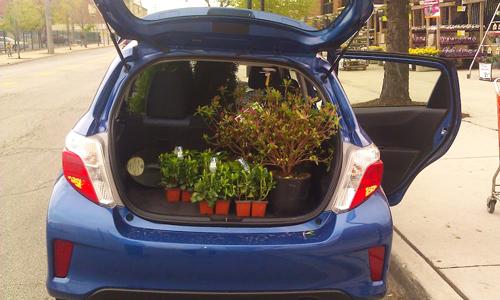 Trip Four: After unloading all that greenery, we picked up my sister for a family visit and grocery shopping trip, increasing the backseat passenger count from one to two. The Yaris was able to handle several bags of groceries, three adults and one toddler in relative comfort (though the front seat passenger may beg to differ).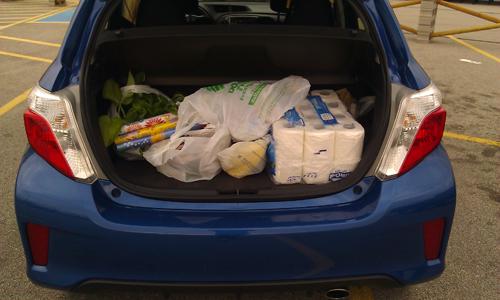 Though it's still slow, loud and just about every bump is heard and felt throughout the cabin, this tiny, 153-inch subcompact swallowed just about everything we threw at it. Were we comfortable? It depends on who you ask, but for such a small vehicle, the Yaris handled the weekend better than expected and better than its size indicates. Maybe it's redeemed itself a bit since our Shootout.