2013 Smart ForTwo Electric Drive: First Look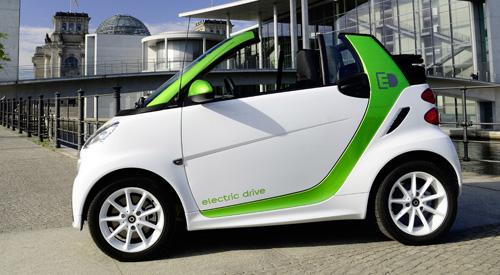 Competes with: Mitsubishi i, Ford Focus Electric
Looks like: The ForTwo goes green, literally
Drivetrain: a 16.7-kilowatt-hour lithium-ion battery pack and a 55-kilowatt motor
Hits dealerships: This fall
Fuel economy has never been a strong suit of the tiny ForTwo, but Smart's adding a gas-free version for 2013. The ForTwo Electric Drive will be available in coupe and cabriolet versions. They go on sale this fall.
The electric subcompact uses a 16.7-kwh lithium-ion battery pack and a 55-kilowatt motor co-developed with Bosch; it makes 95 pound-feet of torque. According to Smart, it will have a 90-mile range and a top speed of 77 mph. It sounds like it'll be almost as pokey as its gasoline-powered sibling: Smart quotes a zero to 62 mph time of 11.5 seconds for the Electric Drive.
The automaker says it can be fully charged on a "household socket" in six to seven hours. However, it can be charged in less than an hour using a quick-charging unit. As with other electric cars on the market, a smartphone application can be used to find charging stations, coordinate charge times and pre-heat or pre-cool the interior while it's connected to the grid.
The Smart ForTwo Electric Drive has white body panels and matching white alloy rims. Green exterior accents match the green-accented interior. Further distinguishing it from its gasoline-powered sibling is a larger grille with electric drive logo, LED-accented headlamps and wider door sills.
U.S. pricing hasn't been announced, but in Germany, coupes will start at €18,910 ($23,900) and cabriolets at €22,000 ($27,700). Its battery pack must be leased for an additional €65 ($81) a month. According to Smart, the rental cost includes regular maintenance and battery replacement, if needed. Customers can buy the battery pack outright for a total cost of pay €23,680 ($29,900) for coupe models and €26,770 ($33,800) cabriolets.
Though previous versions have been available for lease in limited capacity in Europe and the U.S., the 2013 ForTwo Electric Drive will be offered for sale in 30 countries starting in September.
Related
2013 Smart ForTwo at the 2012 New York Auto Show
Smart ForTwo Electric Available for $599 Lease Now, Purchase in 2012
More Smart News
Clicking on any image below will launch a larger photo gallery; you can browse through them by hitting the right and left arrow keys.