Cars.com Drives the L.L. Bean Boot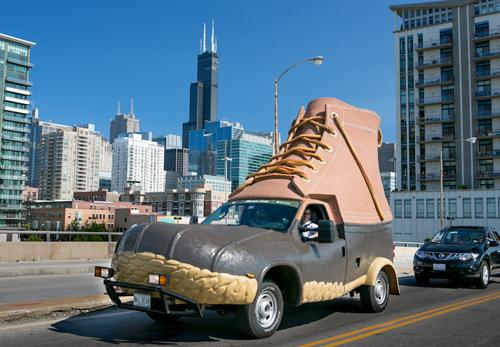 Ever since Cars.com linked up with PickupTrucks.com, we've done only a little truck testing of our own, but we still take them out for a spin just to keep in step with the market. Such was the rationalization last week when L.L. Bean offered us the opportunity to drive its Bootmobile. How do you pass that up?
As PickupTrucks.com reported in January, upscale clothier L.L. Bean upscaled one of its iconic Bean Boots to a size that would equal a men's 747 (that's shoe size, not airplane size), large enough to all but obscure the Ford F-250 Super Duty underneath. This diesel-powered galosh, created for L.L. Bean's 100th anniversary, emulates a middle-height version of the modern boot evolved from Leon Leonwood Bean's original product released in 1912 called the Maine Hunting Shoe.
Seen in person, the Bootmobile is exceptionally well-executed. The proportions are close to perfect, and while I expected it to look like a single giant molded plastic piece, details like the real rope laces give it an overgrown realism. (Bean says they're tugboat ropes with a test strength of more than 100,000 pounds.)
On the road, everyone yields to the boot.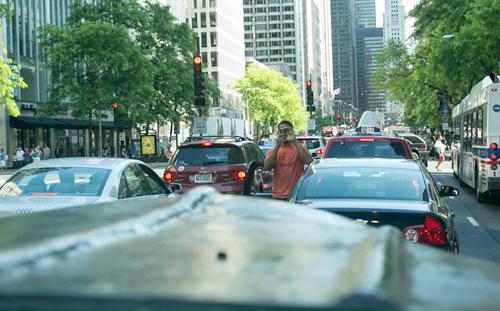 I've driven countless head-turning vehicles, but I've never gotten the attention the Bootmobile commanded. People freakin' love it. Smiles were everywhere. Pedestrians shouted their approval, and a few admonished us to tie our laces. (Mothers…) I pulled alongside a gaggle of tourists, and a white Ferrari 458 Italia nearby might as well have vanished.
A majority — truly a majority — of onlookers quick-drew their camera phones and snapped away. Perilously, this included drivers in oncoming traffic. Literally one after another. While driving on Chicago's Michigan Avenue, with everyone reaching for their holsters, I didn't know if I was public enemy No. 1 or Santa Claus. I've never brought so much joy to so many people in my life. Who knew a rolling boot would wield such power? If heads of state were delivered to tense negotiations in giant L.L. Bean boots rather in than limousines, the world would be a more peaceful place.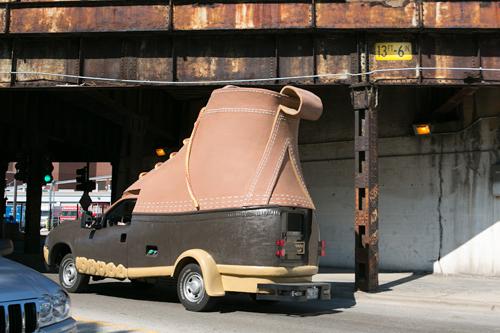 So, how does this boot drive? Well, like a boot, frankly. But I've always thought heavy-duty pickups drive like boots, and now at least it's appropriate.
The Bootmobile accelerates almost effortlessly. Weighing just under 9,000 pounds, it even has about 1,000 pounds of payload to spare. Little of the weight is up top, so it feels more stable and surefooted (sorry) than you'd think. I expected the sightlines of a moving van, but the inside rearview mirror was usable thanks to a window in the rear hatch as well as one in the back of the cab. An always-on rearview camera provides all the extra information you need.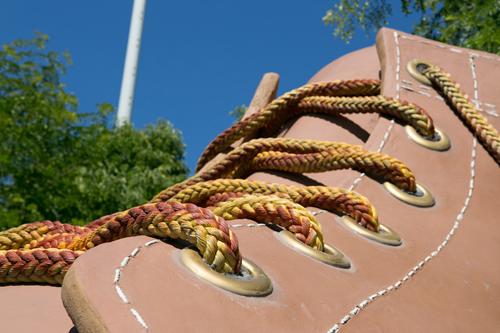 And you need it. The Bootmobile is 20.5 feet long, 7.5 feet wide and, of course, street legal — if not always street wise. At a cringe-worthy 13 feet tall, it pushes the edge of the envelope, and in this case the envelope comes in the form of trees, telephone lines and less-forgiving obstacles, like bridges. As I slid the Bootmobile under elevated train tracks marked "13 ft - 6 in," I wondered if a Ford Ranger or Toyota Tacoma might have made for a more appropriate scale.
The goodwill ambassador's stint in Chicago began with an unannounced visit to a south-side Ford dealership for an oil change. Sadly, I wasn't present for this spectacle, but I'm confident no one ever said, "Boss, we have another shoe here for an oil change. Third one this week." The Bean folks report that their fleet footwear squeezed under a 14-foot doorway and was not put on a lift for the process. The techs were happy to climb up inside the toe and release the hood latch and then to work from the floor. All other repair work in the joint ground to a halt.
After our drive, the Bootmobile spent a couple of days at Chicago attractions like Navy Pier and area stores disseminating gift cards before moving on to Boston and other locations that are posted on the Bean site, with more to come. Look out, Oscar Mayer. The Wienermobile has competition.
For more photos check out our photo gallery on Facebook.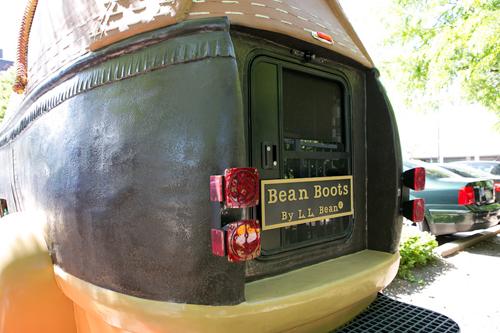 Related
More Automotive News
Read Car Reviews
Research New Cars