Built-In Sunshades Are a Welcome Relief This Summer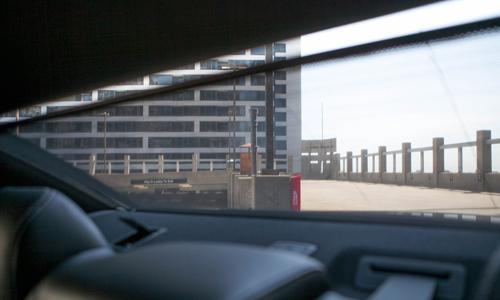 We're in the middle of a serious extended heat wave across the country. Although I typically advocate for leather or leatherette seating upholstery for any family car because it's easy to wipe away spills and sticky crumbs, in these triple-digit temperatures, burning-hot leather seats can be a real safety hazard. Built-in sunshades can be a lifesaver for families, and they're not only for the rich and overindulged. The other day, I left my car in the sun for 30 minutes while picking my three girls up from camp. My black car with black leather seats was parked outside, baking under the beating rays of 101-degree temperatures. Then I loaded the girls into the car, dressed in shorts and spaghetti-strap tanks, only to have all three screech and jump back out. Every surface of the car was scorching hot, from the seat bottoms, to the seatbacks, to the black nylon seat belts and seat belt buckle receptors.
I had been spoiled by my recent stint in the Hyundai Azera, which has rear and rear side sunshades to help keep the sun out and tolerable temperatures in. This feature is even more important for families with infants who can't always verbalize their discomfort when loaded into a car seat. Even on seemingly mild days, temperatures inside cars can rise dramatically. According to Safe Kids USA, on an 80-degree day, it can take only 10 minutes for the temperature inside a car to soar to 100 degrees.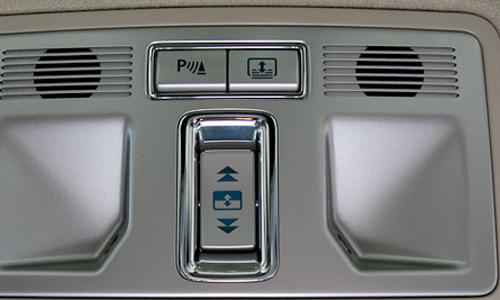 A combination of power (for the rear) and manual (for the rear side windows) sunshades is a common feature in many luxury cars, but you can find them on cars of all shapes, sizes and price ranges. Of course, if you don't have a car with sunshades or aren't in the market to buy one, you can easily add a deep tint to the rear windows to help out, or even use aftermarket suction-cup sunshades. Volvo even offers suction-cup window shades as an accessory for every car in its lineup.
For parents with kiddos in child-safety seats, a freezable Cold Seat can help chill down the seat when not in use, though the idea of taking it out of the car, freezing it, then remembering to put it back in the car sounds like it would easily get left behind. To help prevent the girls from getting burned, I've gone low-tech and started draping beach towels over the backseat when we're not in the car.
Below are a bunch of vehicles we've been in recently that have optional built-in sunshades to help protect your little ones this summer. (It's not a comprehensive list, so there are likely more.) What other suggestions do you have for helping your family stay cool, comfortable and, most of all, safe in the car during this heat wave?
Audi A4 and S4
Audi Allroad
Audi A6
Audi A8
Audi Q7
Acura RL
BMW X3
Chrysler 300 (picture 1)
Chrysler Town and Country
Dodge Grand Caravan
Ford Taurus
Honda Pilot
Honda Odyssey
Hyundai Azera
Infiniti M
Jaguar XF (picture 2)
Lincoln MKS
Lexus ES
Lexus IS
Lexus GS
Lexus LS
Nissan Quest
Toyota Sienna

Related
How To Keep Your Car Summer-Ready
More Family News on Cars.com
More Safety News on Cars.com