MapQuest 3.0: Up-Close Mobile App Inspection
What is it? MapQuest brings traditional turn-by-turn navigation into the car with voice guidance, quick destination input and points-of-interest markers

Price: Free
Platforms: iOS 4.3 or higher; Android 1.6 or higher; BlackBerry and Windows phones
App-based navigation systems are an excellent alternative to portable GPS devices and pricey in-car setups. With dozens of different navigation applications on the iOS and Android markets, which one works the best? A newer version of MapQuest's free app (see our review of the 2.0 version here) has been released, now with voice navigation. How does it measure up?
What you need to know: I tested the new version of MapQuest's app using an Apple iPhone 4 with iOS 5.1.1 in Scion's tiny iQ. I set the destination for the Wisconsin Auto Museum in Hartford, home to a prized collection of more than 100 beautiful, historic vehicles. The MapQuest app uses your phone's GPS location services, and I recommend plugging your mobile device into either the car's auxiliary input or enable Bluetooth audio streaming, if equipped, to better hear the voice guidance that complements the on-screen directions.
MapQuest 3.0 features an interactive points of interest locator, allowing the user to select from categories like restaurants, hotels, coffee shops, gas stations, parking lots and even ATMs. It's thoroughly engaging, but tapping through the map's POI indicators should be done by a passenger or while the vehicle is stopped.
What works: This redesigned MapQuest version is fairly straightforward and easy to use. Plug the address into the search bar and press the green "Go" button. You also can plug in the name of a business or location, but it often takes a while for the app to find and process the directions, if you're lucky. Early in my road trip, I needed to fill up the iQ's gas tank. I tapped the gas station POI icon and a Citgo station popped up right down the street. I was able to see the real-time gas price for regular gas. If I were driving my Chevrolet Camaro, I'd tap the POI a second time to see the real-time price for premium. This feature would be an extremely useful tool for long-distance road trips that require lots of fill-ups.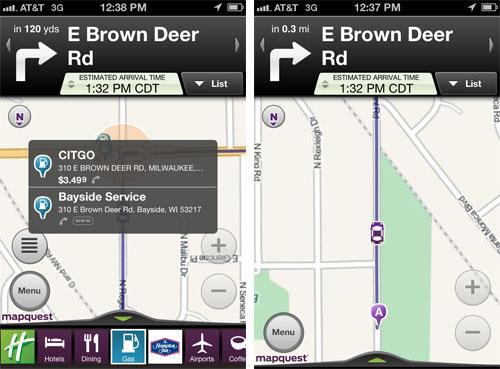 The map graphics are simple and easy to read when zoomed in. You can switch to a satellite view, but the map looks nearly impossible to see when mounted on a windshield.
Even in rural Wisconsin towns like Richfield, the navigation worked flawlessly. To put the MapQuest app to a true test, I steered off the main course and onto a side road surrounded by golden cornfields to snap a few photos of the iQ. The purple indicator moved off the directed path, but the app found a new route almost immediately. That was impressive.
As long as you have the app running in the background, the voice-guided navigation will continue — no matter what other app you have open.
What doesn't: Even when mounted within arm's reach of the steering wheel, I had a hard time reading parts of the screen, including the map if not zoomed in close enough. There's a readout that tells you how far you're supposed to go until your next turn, and I was surprised at how small the text is compared with other text on the screen. It's an important part of any navigation system, and I frequently found myself squinting or leaning forward to see how many more feet I had until the next left turn.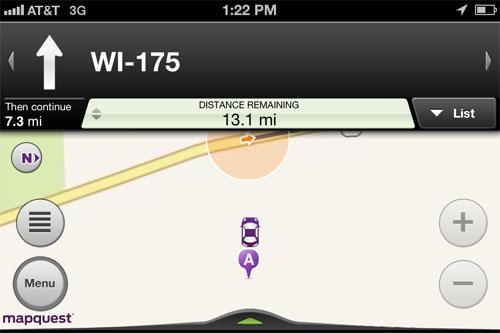 The voice guidance was more frustrating than helpful. If your mobile device isn't connected to your car's stereo, you won't be able to hear the directions, even with your phone's volume all the way up. Fortunately, this Scion iQ had Bluetooth audio streaming for Pandora Internet Radio, and the MapQuest app lowered the music volume every time a direction was spoken. A few times, though, the streaming music would remain at a low volume long after the vocal direction. Repetition was another issue with the voice-guidance feature, as I felt I was almost being "yelled" at while going through a roundabout. One vocal direction is plenty, not four within a 20-second time span.
If there was an easy way to use the app without voice guidance, that would be much welcomed.
While stopped at a red light, I called up the iPhone's drop-down notifications to view a text message. The light went green, and I slid the menu back toward the top of the screen, only to find that the map itself had stopped in its tracks. That purple icon wouldn't follow the purple line on the map until I tapped the "locate yourself" icon. Odd.
The navigation works best if you input an exact address instead of a location name. A few other times the app would recognize the exact, full address, but it would have trouble requesting and drawing the directions. I had to repeat this process two or three times one morning on my commute to work. I'm not sure if this was an app issue or a cellular signal issue, but it definitely became obnoxious.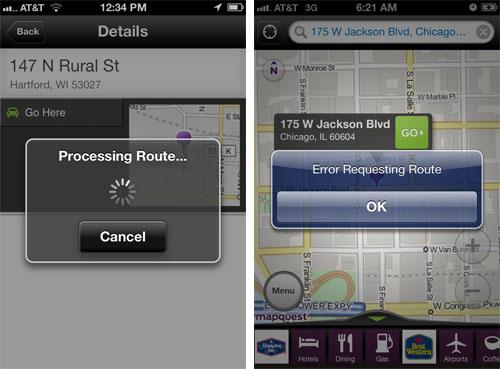 Bottom Line: MapQuest did a good job on the new version of its mobile app, and it got me and the tiny iQ to the Wisconsin Auto Museum, where I rewarded myself by checking out a collection of jaw-dropping old Kissels, Nashes, AMCs and other automobiles manufactured in the great cheese state. Apart from a few gripes with the voice guidance, address input and some tiny text, the app was reliable. If MapQuest fixes these bugs and fine-tunes a few things, this app could stand shoulder to shoulder with Google Maps and maybe even Apple's new map app for iOS 6.
Related Links
More Car Gadget News
GPS on the Go
Cars.com Tests New iPhone Maps App in a Mercedes-Benz SL550