OnStar Revamps Buttons for 2013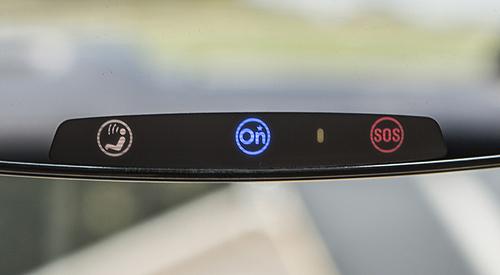 For the first time in years, GM's OnStar is redesigning the system's core buttons, changing what users see. If we chose one of the new logos for our What Does This Button Do? series, we'd guess the X-Men's screaming Banshee character should beware because the new voice command button clearly looks like OnStar found a way to trap his mutant yapper in a bubble.

The new signage aims to better reflect what OnStar offers in the way of voice commands and emergency response. The new voice command button, which replaces the white phone surrounded by a circle, emphasizes the system's features beyond making a call. For example, turn-by-turn navigation, traffic and weather updates are available through the button.
OnStar will soon expand to new global markets, so the previous emergency services button had to go – the white cross in a red circle doesn't have the same meaning internationally. Replacing the cross is an SOS symbol, which OnStar says is a globally recognizable emergency symbol. The emergency services button connects with an adviser in a medical emergency situation or in a good Samaritan role when you witness a crash or someone in trouble.

Lastly, the middle OnStar button simply gets an update to the company's new logo that was revised in late 2010.

The trio of buttons will roll out on most 2013 GM models.

Related
What Does This Button Do?
More Safety News
Research New Cars