BMW Active Tourer Concept: First Look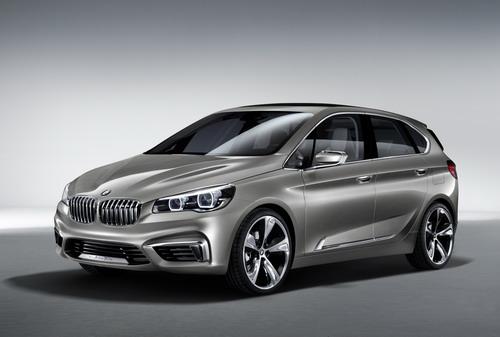 Looks like: BMW's take on the new Mercedes-Benz A-Class
Defining characteristics: Three-cylinder plug-in hybrid drivetrain, panoramic roof with tint-changing glass
Ridiculous features: Backseat passengers can play a BMW-developed eco-racing game called Seismic Surf
Chances of being mass-produced: Depends how the market accepts the latest wave of premium small cars
BMW says it expects premium small cars to grow 5% per year in popularity, and the automaker's i sub-brand will have at least one car — the i3 hatchback — to tap the demand. The front-wheel-drive Active Tourer concept follows in that mold, with a turbocharged, 1.5-liter three-cylinder engine assisted by a plug-in hybrid motor and lithium-ion battery. It will debut at this month's Paris Motor Show.

At 171 inches long and 72 inches wide, the Active Tourer has a similar footprint to Ford's C-Max Hybrid. BMW maintains that the car "unmistakably retains" BMW's corporate face, but the bumpers depart from said face. The twin-kidney grille and eyebrow-laced lights remain, but the arcing portals ahead of each fender show hints of the same indentations on a Mazda CX-5 or Hyundai Tucson. Taken as a whole, Mercedes' new A-Class is the obvious doppelganger, especially with its horizontal cut-lines.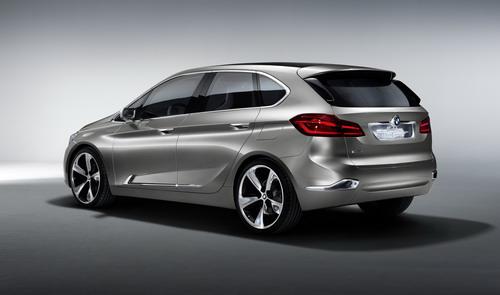 The Active Tourer concept wears 20-inch alloy wheels. BMW says the hatchback's cargo area should remain unhindered by the battery pack, which sits beneath the load floor. Cabin features include wood inlays cut from a single block, a center console that floats off the floor and the Black Panel instruments from other BMWs. A panoramic glass roof uses voodoo magic suspended-particle technology to darken at the touch of a button, much like Mercedes' Magic Sky Control. You can slap a leaf-patterned appliqué to the glass for an interesting sort of eco-take on what the erstwhile Maybach 62 offered.
The Active Tourer's seats have what BMW calls a "semi-command position," so they offer a raised view of the road … just not that raised. The rear seats fold in a 40/20/40 split, and rear passengers can attach accessories – like an iPad or a small table – to vertical metal tracks behind the front seats.
BMW says an iPad app called Seismic Surf draws real-time information from the Active Tourer to allow backseat passengers to participate in an "exciting ecological racing game" that involves collecting points along a virtual eco-route that changes as the driver pilots the car more efficiently or aggressively. "Only the perfect interaction between a fuel-efficient driver and a skillful player at the rear can maximize the point score and achieve a podium position in the BMW games universe," BMW says. We're speechless, but only because we're laughing so hard.

Total drivetrain output is 190 horsepower, allowing the Active Tourer to hit 60 mph in the 7-second range. BMW estimates fuel consumption to be 2.5 liters per 100 kilometers — 94 mpg — but that's in European cycles. The car accepts 220-volt (Level 2) charging to drive up to 19 miles on a full charge, but there's no word on how long the charge would take.

The Active Tourer sits in a limbo area between concept and reality — too pie-in-the-sky in some regards, but ready for primetime in others. Will BMW make it? If the i3 does well, you can bet the company will weigh the option.

In the meantime: Seismic Surf, anyone?

Related
BMW i Brand Promises Two Cars by 2013
More BMW News
More Automotive News