Of Course We Need A Porsche Station Wagon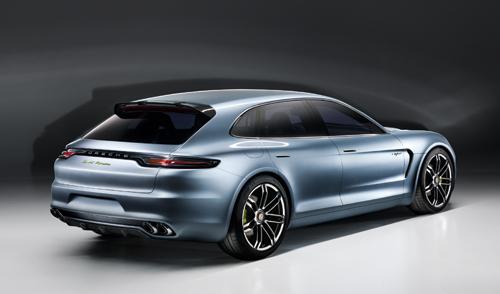 Porsche just unveiled a new concept car, the Porsche Panamera Sport Turismo, at the Paris Motor Show. It is essentially a
Porsche Panamera
with a redesigned back end that offers more cargo space, or as most people would call it, a station wagon.
Porsche isn't going to call it that, of course, but why shouldn't there be a Porsche wagon?
No one thought Porsche should build a Cayenne SUV or a four-door like the Panamera, but they both sold well.
Why would a wagon be a hit? It might not be.
It doesn't have the 911 styling around the back like the Panamera. It's the same length as the Panamera, but there's no word on how much cargo room is gained from the new body style.
Whether the Sport Turismo becomes reality or not, the plug-in hybrid powertrain its sporting likely will. It features a new electric motor based on the one that powers the current Panamera hybrid, but the concept's electric motor is twice as powerful. There is also a lithium-ion battery instead of the current nickel-metal-hydride one. And then there's the plug-in system.
Porsche estimates it can cover 18 miles on electric power alone on a full charge at speeds up to 80 mph.
We'd guess that the Sport Turismo would be available in non-hybrid models, too.
There are also plenty of "concept car" touches inside and out, including futuristic displays and cameras where mirrors should be.
Even if a production wagon makes up just a small fraction of Panamera sales, we need the Sport Turismo to be the halo car for moms and dads who don't aspire to a Cayenne. Check out the pictures below to see if you agree.
Related
2013 Porsche Panamera Review
Porsche Announces Macan SUV
Research More Luxury Cars
Clicking on any image below will launch a larger photo gallery; you can browse through them by hitting the right and left arrow keys.