2013 Volkswagen Beetle Convertible: First Look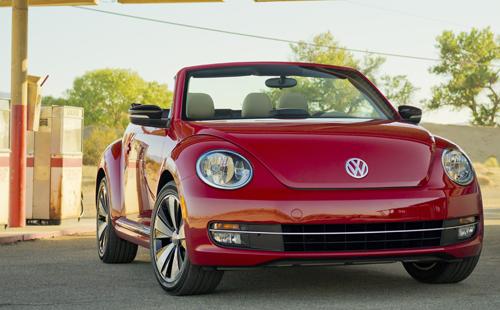 Competes with: Fiat 500, Mini Cooper
Looks like: A ragtop Beetle
Drivetrain: A 2.5-liter inline-five-cylinder, a turbocharged 2.0-liter four-cylinder and a 2.0-liter clean-diesel four-cylinder
Hits dealerships: End of 2012
A drop-top model is returning to the Beetle lineup after a three-year hiatus. The 2013 VW Beetle convertible will go on sale at the end of this year.
In terms of styling, the ragtop should look familiar. The flat roofline and upright windshield that debuted in the redesigned-for-2012 coupe are also worn by the convertible. Ditto the interior: It borrows the coupe's body-colored dashboard and gauge layout.
The convertible seats four and has a split-folding second row to increase cargo space. Volkswagen says it takes 10 seconds to lower the soft-top with the "touch of a button." Standard is an Automatic Rollover Support System that consists of two rollover bars that pop up behind the rear bench seat if a rollover is detected.
The Beetle convertible will be available with the same powertrains found on the coupe: a 2.5-liter inline-five-cylinder, a turbocharged 2.0-liter four-cylinder and a 2.0-liter clean-diesel four-cylinder. Three transmissions are available: six-speed manual, six-speed automatic and a six-speed dual-clutch automated manual.
We'll learn more when the convertible makes its official debut at the 2012 Los Angeles Auto Show in November.
Related
Volkswagen Beetle Convertible Coming Early Next Year
Research the Volkswagen Beetle
More Volkswagen News at Cars.com
Clicking on any image below will launch a larger photo gallery; you can browse through them by hitting the right and left arrow keys.