2014 Corvette to Get New 6.2-Liter V-8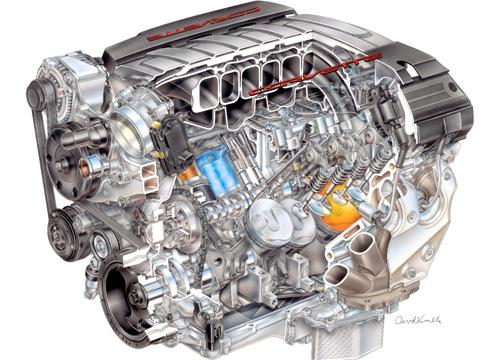 The information about Chevrolet's all-new 2014 Corvette is trickling out. First a teaser shot and then a quick video. Today, GM announced that the C7 will get a new small-block 6.2-liter V-8 making an estimated 450 horsepower.
The current model's
base engine is a 430-hp, 6.2-liter V-8.
The new Corvette will have to live up to some impressive claims. GM said it will be the "quickest standard Corvette ever, with estimated 0-60 performance of less than four seconds" and get better than 26 mpg, which is what the 2013 model rates.
The automaker also claims it'll be the most fuel-efficient Corvette because of the new small block's direct injection and cylinder deactivation systems. The Active Fuel Management cylinder deactivation system shuts off four of the car's cylinders in light-load driving. The engine, called LT1, is also lighter and smaller than previous blocks, thanks to the use of more aluminum components and new cylinder head and piston designs.
The new engine will be built at GM's Tonawanda Engine Plant in Buffalo, N.Y. The 2014 Corvette will be unveiled on Jan. 13, 2013, at the Detroit auto show.
Related
2014 Chevrolet Corvette To Debut at 2013 Detroit Auto Show
Another Glimpse of the 2014 Chevrolet Corvette
More Corvette News on Cars.com