The much-ballyhooed sales figures for the Chevrolet Volt hide another green-car success: the Toyota Prius Plug-In. Toyota's rechargeable hybrid hummed along with 1,652 sales in September, and it's only available in 15 coastal states. You won't be able to buy it in the rest of the U.S. until next year.
That hasn't stopped the Prius Plug-In with 7,734 sales so far this year from earning a comfortable second place between the Volt and the Nissan Leaf. The Prius Plug-In has been on sale since last fall and spent much of the following spring among the fastest-selling cars in America. In some months, it even outpaced the first-place Volt, which spent much of this year facing more politicization than Joe the Plumber.
GM fought back, discounting Volt leases to as little as $269 a month for three years with roughly $2,800 down — leading some experts to argue it's better to lease a Volt than buy it. Is it bad business for GM? Perhaps, as the 2013 Volt now leases for $299 a month. Toyota undercuts that today with leases as low as $269 in some areas on the 2012 Prius Plug-In if you pony up as much as $3,599 at signing. Pay up to $459 a month and you can walk away with a Prius Plug-In in some areas with no money down.
How has the Prius Plug-In thrived? It has as much to do with the nameplate as anything. Since the first-gen Prius launched in mid-2000, Toyota has sold nearly 1.3 million. That makes it relatively mainstream: Americans have bought four Priuses for every five Hyundai Sonatas over the same span. Expanding the nameplate to include the smaller
Prius c
, extended-length
Prius v
and outlet-friendly Prius Plug-In made sense, I
argued last year
.
It paid off. Through September, sales for the Prius family have doubled versus sales for the original Prius a year ago. In nine months of 2012 sales, the nameplate has outsold full-year sales at any point in its 12-year U.S. history. The momentum fueled Prius Plug-In sales. Consider how the car ranks among other semi-affordable plug-ins: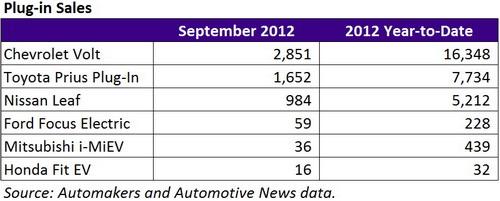 Of course, plug-in cars remain a flyspeck in the U.S. market; in September, the Chevrolet Sonic handily outsold all of the above cars combined. Can Toyota sustain the Prius Plug-In's relative success? It's hard to say. Slow sales could prompt Nissan to add a base trim that starts at a lower price, Nissan sources told Automotive News, but the Leaf already offers the best deal for leasing — a battleground among plug-in cars. Nissan starts Leaf leases at just $199 a month, besting any others in the group. Compare that to cars like the Fit EV and Focus Electric, which lease at nearly $400 per month.

If Toyota gets hungry for higher Prius Plug-In sales, expect more aggressive lease deals. The jury will be out until next year when cars like the Fit EV and Prius Plug-In start selling across more states and others, like the Smart ForTwo Electric and plug-in hybrid versions of the Honda Accord and Ford Fusion, hit the market.

Related
Top 10 Best-Selling Cars: September 2012
September's Fastest- and Slowest-Selling Cars
More Automotive News