2013 Hyundai Santa Fe: Up Close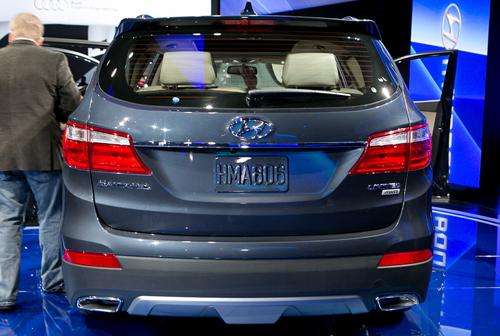 We've already reviewed the 2013 Santa Fe Sport, which replaces the Santa Fe we've known for years. The 2013 Santa Fe (no Sport), which adds a third row for six or seven seats total, essentially replaces the underappreciated Hyundai Veracruz. The what? Exactly.
More 2012 L.A. Auto Show Coverage
We were very impressed with the new Santa Fe Sport, and the main difference between that one and the longer-wheelbase version shown here at the 2012 Los Angeles Auto Show is more interior space, so I'll focus on that.
This model was equipped with two captain's chairs for its second row rather than the three-seat bench. Hyundai says this model adds 2 inches of second-row legroom compared with the Sport despite the addition of a third row. To me, at 6 feet tall, it simply felt like an abundance of space, even with the front seat moved back and the sliding captain's chair moved forward. The backrests recline, as well.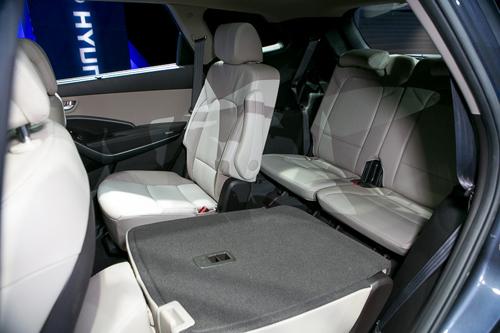 When the time comes to test out third-row seats, we have several other editors of my height, yet there seems to be no exemption for the aged. In I went. Both captain's chairs tilt and slide forward — out of the way for third-row access. Sort of. Truth be told the step-in height is high and the opening pretty narrow.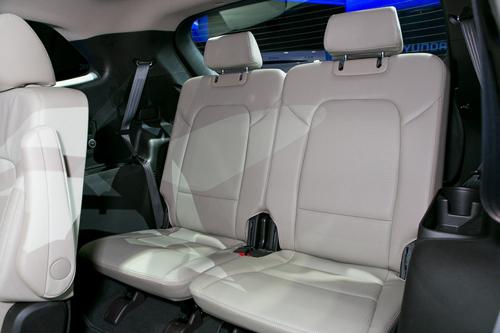 Once back there I found headroom very tight; I wasn't actually touching the ceiling, but one good speed bump and I'd be a few inches shorter. Legroom is another story — a short story. Technically, my knees weren't touching the second row's backrest, but only because the two third-row seats are so close to the floor that my knees were at armpit level. Not good for the ride and especially difficult for getting out, which I did. Eventually.
Third-row seats generally aren't intended for adults, much less tall ones, but we know from our evaluations and three-row SUV Shootout that some are much better than this. Otherwise, the Santa Fe has the quality and generous feature offering of the smaller Sport. And that's good.