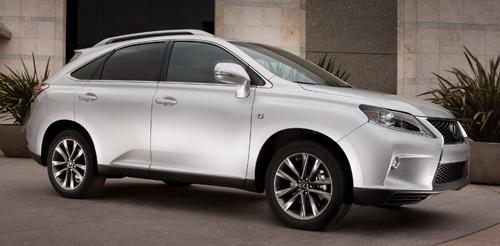 The Lexus RX 350 crossover is the ubiquitous mom-mobile in my north-side Chicago neighborhood. For the 2013 model year, the five-seat family hauler received a refresh in the looks department and a new sport-oriented F Sport trim. For our Car Seat Check, we tested the RX 350 F Sport.
For the Car Seat Check, we use a Graco SnugRide 30 rear-facing infant-safety seat, a Britax Roundabout convertible child-safety seat and Graco high-back TurboBooster seat.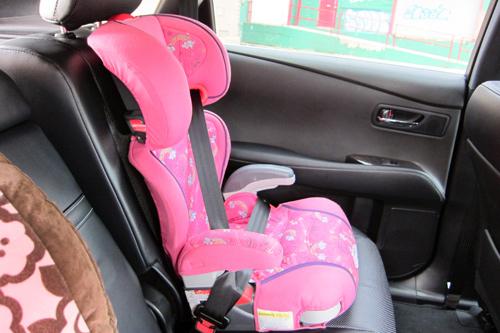 The front seats are adjusted to a comfortable position for a 6-foot driver and a 5-foot-8 passenger. The three child seats are installed in the second row. The booster seat sits behind the driver's seat, and the infant seat and convertible seats are installed behind the passenger seat. We also install the convertible seat in the second row's middle seat with the booster and infant seat in the outboard seats to see if three car seats will fit. If there's a third row, we install the booster seat and a forward-facing convertible.
Here's how the 2013 RX 350 did in Cars.com's Car Seat Check:
Latch system: The RX has two sets of lower Latch anchors in the outboard seats. The anchors sit about a half-inch into the seat bight, where the back and bottom cushions meet. Reclining the seatback makes it easier to reach some of the Latch anchors, but the inboard anchor behind the front passenger seat is difficult to use because the seat's reclining mechanism crowds the area. Three tether anchors are midway down the second row's seatbacks.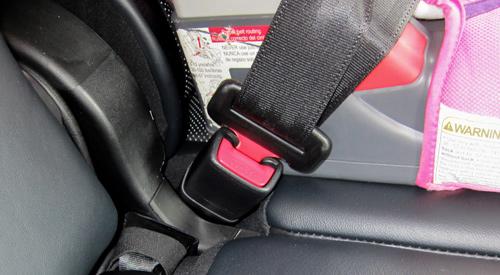 Booster seat: The second row's flat seats with minimal bolsters worked well with our high-back booster seat. The outboard seat belt buckles are on stable anchors, making for easy buckling by younger kids. The middle seat has a floppy buckle that fits into a recessed pocket in the seat cushion.
Convertible seat: The rear seats' reclining seatbacks were instrumental when installing child-safety seats. It allowed for easier access to the Latch anchors and helped us situate the forward-facing seat. For the rear-facing convertible, we had to move the front passenger seat forward just a bit, but it didn't affect the front passenger's legroom.
Infant-safety seat: To fit this rear-facing car seat, we had to move the front passenger seat forward quite a ways. The front passenger's knees were nearly touching the glove box; taller passengers will be cramped with an infant-safety seat installed behind them.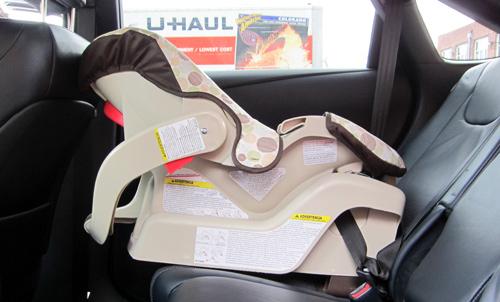 How many car seats fit in the second row? Two
Editor's note: For three car seats — infant-safety seat, convertible and booster seats — to fit in a car, our criterion is that a child sitting in the booster seat must be able to reach the seat belt buckle. Parents should also remember that they can use the Latch system or a seat belt to install a car seat.
Related
Research the 2013 Lexus RX 350
More Car Seat Checks
More Safety News