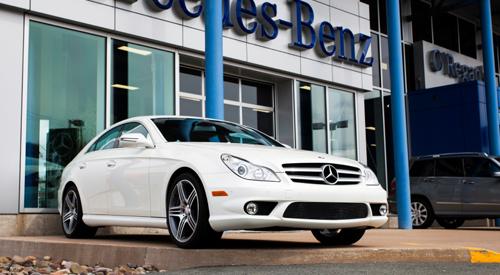 A battle has quietly been waged over the last year, with the prize being the sales crown for luxury cars here in the U.S. For most of this century, that title has been solidly in the hands of Lexus, but the Japanese earthquake and tsunami tragedy of 2011 left the brand with pinched inventory, allowing BMW to take the crown for the first time in more than a decade.
Now, as 2012 comes to a close, the sales champion title may be changing hands again, as Mercedes-Benz has been successfully pushing hard all year to become the top-selling luxury brand in the U.S. — a fight BMW has vowed not to give up on.
This brand battle is a good thing for car shoppers.
With just a handful of days left until the numbers are wrapped up, these luxury brands have been putting some serious effort into pulling buyers into dealerships in the hopes that they will leave with what could be someone's epic holiday gift. Believe it or not, luxury cars actually are given as gifts this time of year — Lexus really does stock up on the big red bows from its TV commercials.
Assembled here is a brief roundup of some of the more attractive incentives being offered by the top luxury brands for December. The majority of luxury cars are still leased not purchased, and the incentives tend to favor leases. Automakers focus incentives for these models accordingly, aiming to lower monthly lease payments rather than the starting price. With that in mind, here are some of the better offers, and Cars.com's picks for the best values out there.
Entry Luxury Cars

This is the biggest segment in the luxury arena — the bread-and-butter of the luxury brands — and one of the more hotly contested groups. Get a buyer in your compact model and the thinking is they'll stick with you, trading up to bigger and better models over their lifetime. The deals are strong here, with most advertised models coming equipped with premium packages, and depending on your market, possibly all-wheel drive.
Our pick from this group: the Infiniti G37 sedan. It's an outgoing model, which is about to be replaced with a new vehicle at next month's North American International Auto Show in Detroit, but the lease terms are quite good. Despite its age, the G37 is still one of the most rewarding sport sedans to drive in the segment. The Cadillac ATS may look tempting, but the model with the special deal is the base trim with the 2.5-liter four-cylinder, not our favorite flavor of ATS.
Midsize Luxury Sedans


More expensive metal here and more rarified air as well. There's a lot to like about these offerings, but a few are going to be revamped in the near future, such as the
Mercedes-Benz E-Class
and
Cadillac CTS
. Our choice is divided: If you want a driver's car for a sweet deal, the CTS is hard to pass up. Zero out-of-pocket cash and a relatively low monthly payment in a Cadillac that needs an update but is still good looking, fun to drive and well equipped is the way to go. If you prefer pampering luxury over performance, the
Lexus ES 350
is a solid choice. Note that some automakers' offers differ by region. In the Northeast, the Lexus ES 350 can be leased for a slightly lower monthly payment and shorter term than Lexus is offering in Southern California. As with all offers, check with your local dealer to determine what applies in your area.
Luxury SUVs


This one is a bit trickier. For purposes of comparison, we've assumed all-wheel drive is a necessity — why get an SUV without it? — but there are some apples-to-oranges comparisons. The deal on the
Cadillac SRX
is strong — zero out of pocket at signing and decent monthly payments for an updated, strong player in this segment. But the nod has to go to the
BMW X5 xDrive35i
for its fun-to-drive factor, and the bigger cash incentives should you choose to finance rather than lease. An interesting tidbit — the X5 comes in a diesel and BMW is offering a $4,500 "Eco Credit" for buying that specific model. That money is rolled into the cap cost if you lease it, but comes off the price directly if you take advantage of the special financing.
Convertibles


If you are going to buy a luxury car as a holiday gift, what's better than a convertible? Most of the current deals are on 2012 models, which may be few and far between on dealer lots. The
Lexus IS
, for instance, has no specials on either coast — only in the Midwest is there a lease incentive. Of the list, our nod has to go to the
BMW Z4 sDrive28i
. The price is right, the cash incentive is also attractive and it's a 2013 model instead of a 2012. We've also seen the
updates for 2014
already, and they aren't enough to make us wait.
Editor's note: While some incentives listed above are offered nationally, many vary by region. Check with the individual automaker to confirm the deal in your area.
Related
Do People Really Give Cars As Gifts?
More Incentive News on Cars.com
More Automotive News on Cars.com