Daimler, Ford, Nissan Plan Commercial Fuel-Cell Vehicle for 2017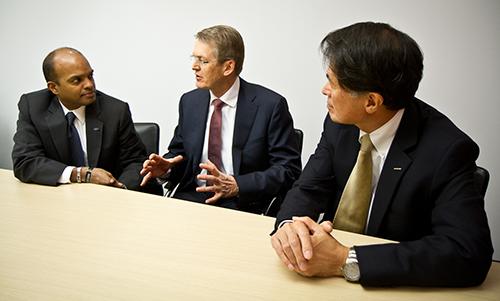 An agreement among three automakers spanning three continents could lead to the development of a mass-market fuel-cell electric vehicle as soon as 2017, according to a statement from Nissan. Through the partnership, Daimler, Ford and Nissan intend to produce a common fuel-cell stack and fuel-cell system that can be used by each company in its own separately branded FCEVs, which produce no carbon-dioxide emissions. The electricity for an FCEV is generated on board the vehicle in the fuel-cell stack following a reaction between hydrogen and oxygen, leaving behind only water vapor and heat as by-products.
Today's announcement comes only four days behind news that BMW and Toyota have finalized a joint agreement to develop the zero-emission technology system three years later, by 2020. The automakers said they would combine their existing fuel-cell technology to create a complete system.
Both FCEV agreements include participating in the adoption of global specifications and component standards, which all the automakers have agreed will be necessary for the technology's long-term commercial viability. Likewise, today's announcement stated that the Daimler-Ford-Nissan alliance would send "a clear signal to suppliers, policymakers and the industry to encourage further development of hydrogen refueling stations and other infrastructure necessary" to the widespread acceptance of FCEVs.
Related
BMW and Toyota Finalize Fuel-Cell Collaboration, Plan New Sports Car
Nissan Previews Terra Fuel-Cell Concept
Toyota Hints at Future Hybrid, Hydrogen Vehicles