Volkswagen CrossBlue at the 2013 Detroit Auto Show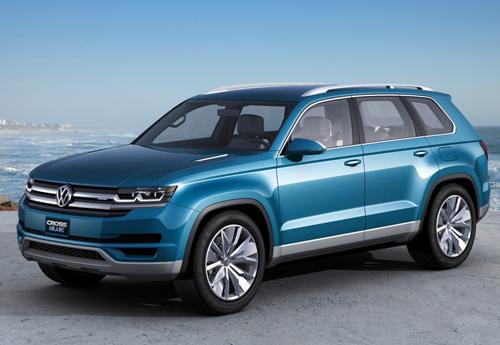 Looks like: The offspring of a Volkswagen Touareg and a Jeep Grand Cherokee
Defining characteristics: Diesel plug-in hybrid drivetrain, rugged styling, three rows of seats, exterior power outlet for small devices
Ridiculous features: Hood air intakes, 21-inch wheels
Chance of being mass-produced: It's only a matter of time before VW sells a three-row crossover
The CrossBlue concept provides an idea of what a three-row crossover from Volkswagen might look like. The concept's styling builds upon the design theme of the automaker's Touareg crossover, which has two rows of seats, by adding a little more ruggedness. It also features a unique plug-in hybrid drivetrain that incorporates a diesel engine; that's something that could potentially appear on a production model, though likely with a significant price premium.
More 2013 Detroit Auto Show Coverage
Like a number of VW's newer models, the automaker says the CrossBlue was designed for the U.S. market, a place where three-row crossovers have proliferated in recent years. Interestingly, VW says a production model would slot between the compact Tiguan and the Touareg, which suggests that despite its seating advantage over the Touareg, it might have a lower starting price than the Touareg's nearly $45,000 base price.
Where the Touareg has some softness to its design, the CrossBlue is more muscular. Large fender flares recall those on the Jeep Grand Cherokee, and the overall look is boxier and more truck-like while still retaining good overall proportions. The concept is 7.5 inches longer than the Touareg and nearly 3 inches wider but no taller; it's roughly the size of a Dodge Durango.
The concept has seating for six in three rows, but Volkswagen says a three-person bench seat could go in the second row to raise total capacity to seven passengers. The two-person third row has stadium-style seating. Like the gear selector in Jaguar cars, knobs in the CrossBlue's cabin for lighting, air conditioning and the drivetrain rise from a flush position when the crossover is started. Technology features include a 10.2-inch touch-screen, a rear entertainment system with iPad minis mounted in the back of the front-seat head restraints, and a Fender premium stereo.
The CrossBlue is built on a new modular vehicle architecture from VW, and it's a showcase for various elements of the platform. They include a 190-horsepower diesel engine, a six-speed dual-clutch transmission, a lithium-ion battery pack, and front and rear electric motors. Operating as a hybrid, VW says the CrossBlue gets 35 mpg in combined driving and can go from zero to 60 mph in 7.2 seconds. When E-Mode is activated, VW says the CrossBlue can go up to 14 miles on electric power alone.
Volkswagen is making an aggressive sales push in the U.S. market with new models like the Beetle and Passat, and the brand saw a 35% increase in sales last year. It has big ambitions going forward, and a three-row crossover like the CrossBlue would go a long way toward achieving them.