Visteon's e-Bee Demonstrator Creates a Buzz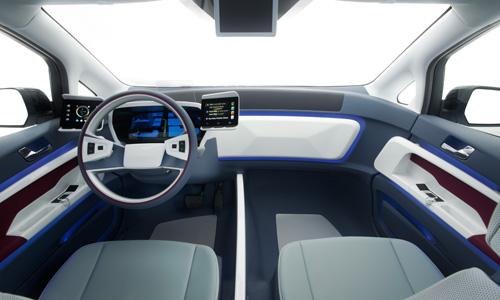 A new concept car has just been unveiled, but it's not from any automaker you've heard of. The car began life as a Nissan Leaf, but sit inside and you won't recognize anything from Nissan — there is no dashboard, no glove box, no visible airbags, no vents, no radio. No rearview mirror even.
This is the Visteon e-Bee, and it's a technology demonstrator from one of the world's biggest automotive suppliers — the companies that sell automakers the parts that become the cars you buy.
The "e" is for electric vehicle, "Bee" for the way it operates in concert with its surroundings — just like the insect, it is meant to be part of a larger, connected "hive" of vehicles, sharing information, traffic status and more. It represents a fascinating look at what the inside of the average new car could look like in the near future. Unlike many concept cars seen at auto shows, the e-Bee is not based on pie-in-the-sky ideas — all of the technology in the car actually works, and many of its systems and features will be in your driveway by the end of the decade.

Outwardly, the e-Bee looks like a typical Nissan Leaf with a few extra stickers. Inside, however, the fact that this is an EV allows for a complete rethink of how the whole interior is arranged. Gone is the traditional dashboard, as the company has changed how to package the climate control system, which typically takes up a great deal of space behind the center console.

The safety crossbar also has been replaced by a composite system, retaining the safety of current vehicles but eliminating a lot of material and freeing up designers to get creative. Airbags have been relocated from the steering wheel or instrument panel to the headliner above the front seat passengers, a new system from TRW — another supplier — that is set to debut in Europe later this year.

Information is organized in three tiers:
A low-resolution LED display on the far firewall just below the windshield
A head-up display in front of the driver with speed and other information
And immediate controls are displayed on panels just behind the steering wheel
All of the vehicle's controls have been relocated to two touch-screens flanking the steering wheel, which Visteon calls "petals." All of the screens and controls are reconfigurable to an individual's preferences, and can change everything from interior lighting to graphics and control displays. All these settings can be configured from a person's theoretical website account, based on whose smartphone is linked to the car.
Visteon imagined the e-Bee as part of a car-sharing service; as such services become increasingly popular in urban centers around the world, automakers are paying more attention to designing vehicles whose purpose is communal use and ownership instead of individual ownership. That's why the e-Bee has no traditional glove box — if you are merely using the car and not owning it, this eliminates the risk of putting something in a storage compartment and leaving it behind.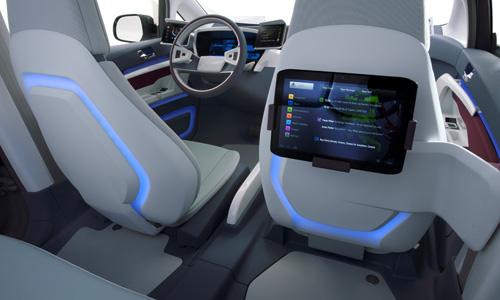 No air vents? Three different diffuser panels are controlled by the driver to blow hot or cold air into the cabin. Copious use of LEDs allows for all sorts of interesting ambient light controls, some of which are as much functional as decorative: Connect a Bluetooth device and the doors, dash and displays flash blue for a moment, or hit the hazard lights and a big low-resolution display on the firewall lights up red, as do the doors.
Combined with some of the other systems that Visteon is currently shopping around to automakers — such as a display touch-screen that nearly duplicates all of the functions of an Apple or Android smartphone on a big central display — the next generation of in-car tech looks to be both much easier to use than current systems, and far faster and more readily configurable to an individual's taste. While the e-Bee shows just what the next generation of EVs could look like, given their flexible platforms and interior adaptability, some of these systems could also find their way onto traditional gasoline-powered vehicles. Look for them in your local dealerships sometime around 2020.
Related
Brand Loyalty Declines; Shoppers Put Technology First
Today's Electric Vehicles Could Sell for Less Tomorrow
More Automotive News