What We Miss in Our 2013 Honda Civic LX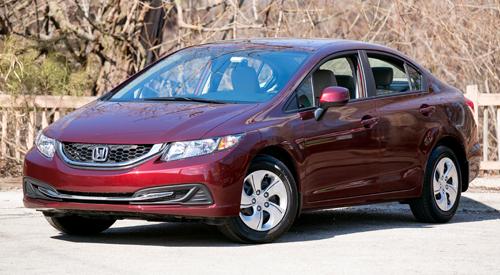 Cars.com's editorial staff is just getting our feet wet with the newly purchased 2013 Honda Civic LX that joined our long-term test fleet in late February. The Civic is an undeniable powerhouse of standard features for the money with exclusive technology in base LX models that some compacts don't include even on their highest trim level.
Considering the new gadgets and toys inside the Civic for 2013, we polled our team to ask if a feature that eluded the Civic LX's standard feature sheet was sorely missed.
And to be fair, we asked what their favorite Civic feature was after turning the odometer over 1,400 miles.
"So far my only gripe with the Civic is the lack of automatic headlights. I didn't realize how much I rely on automatic headlights on my own Subaru Outback until I got into the Civic," writes Cars.com Senior Editor David Thomas.
Some editors have caught themselves leaving the driveway without the headlights on because automatic headlights are a common feature on most of the cars we own and test. Surprisingly, it's not a popular standard feature in the compact class with the Chevrolet Cruze including it standard, but not many others without upgrading trim levels or adding a feature package.
Cars.com editor Joe Bruzek agrees, "No other compact car combines every standard feature the Civic has along with automatic headlights, but I'd give up the Civic's standard Pandora streaming radio capability in a heartbeat for automatic headlights."
We can also chalk up a sliding sun visor to the little-things-that-count list missing from the Civic. It's a minor inconvenience, but hopping from a car that doesn't have them to a car that does is like making the jump from a standard definition television to high definition — there's no going back.
"I wish it had a sliding sun visor. I find those super useful on long trips. It seems like an easy/cheap thing to add, and lots of automakers are doing it. Honda should get on board," says Cars.com News Editor Jennifer Geiger.
Passengers complained about the lack of lights for the vanity mirrors too, but again that isn't a feature routinely found standard in this segment. The wheel covers also drew attention from some who wished it had less tacky 15-inch covers. The base LX is the only model without alloy wheels, and the standard five-spoke wheel covers did little to hide the unsightly steel.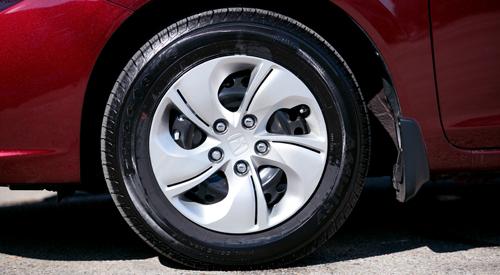 The positives far outweigh the negatives when it comes to discussing standard equipment on the 2013 Civic though. Value eluded the all-new 2012 Civic when it was introduced, and Honda took huge steps to address that complaint for 2013 by cramming the proverbial 10 pounds of stuff into a 5-pound bag, "stuff" being standard features. A backup camera is one of the features most loved by our staff that's no-cost standard equipment on the base LX model we purchased.
Geiger remarks, "It's small but still useful for parking in tight city spots," while Cars.com Senior Editor Jennifer Newman says, "It's unexpected at this price point and a welcome addition."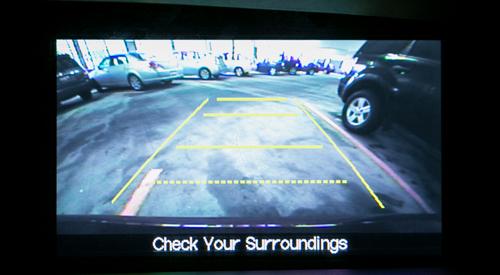 Cars.com editor Kelsey Mays continues the acclaim: "When some competitors don't even offer a camera, it's nice to see Honda include it standard."
A backup camera isn't the only technology added for 2013. A suite of smartphone integrations comes standard, including Bluetooth, Bluetooth streaming audio, USB input for music, Pandora internet radio and text message reading functions. Just because the features are standard on the base model doesn't mean they work poorly.
"By far my favorite standard feature is the base stereo. Sure it has just four speakers but it has perfect iPod integration, USB, Bluetooth streaming, steering wheel controls and that bright display high in the dash," says Thomas. "I've been driving all kinds of luxury cars lately and none had a display that was this vibrant, showed album artwork so large and worked as intuitively."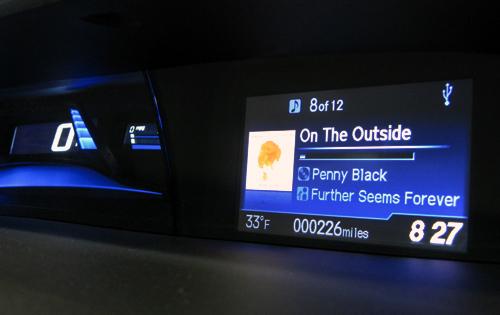 The flawless execution isn't limited to an iPod. Well, for music an iPod is still your best USB choice in the Civic but one editor's Samsung Galaxy S3 worked with the standard text message reader:
Bruzek writes:"Like the entire smartphone integration, the Civic's text message reader is an up-level feature done very well in a base car. The seamless execution is rare in cars three times the Civic's price and unheard of in sub-$20,000 cars I've tested."
Related
We Bought a 2013 Honda Civic, And It Wasn't Easy
Cars.com's 2013 Honda Civic Photo Gallery
2013 Honda Civic Review