Spring Showers Bring Summer Tires Back to Our Subaru BRZ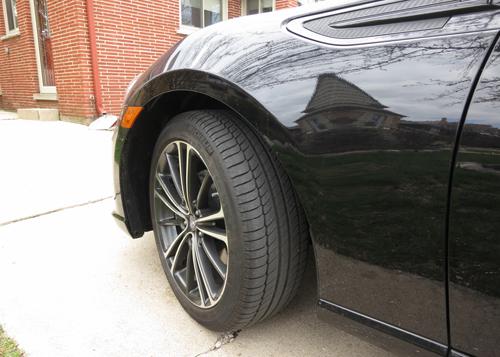 It has been a long winter here in Chicago. Even with the dawn of spring we experienced subfreezing temps, snow and just plain awful, gray days. That meant keeping our winter tires on Cars.com's long-term 2013 Subaru BRZ a bit longer than we wanted.
Follow Our Long-Term Test Fleet
Conventional wisdom in our office is to swap the tires on or around April 1 ... simply because Chicago weather can be so unpredictable.
We didn't do the deed until April 12. And it snowed the next day.
Swapping the tires out was easy enough. I made an appointment at the local Discount Tire store for noon April 12. After I arrived it took about 10 minutes for the service adviser to do a walk around of the car, check the mileage and then check all four summer tires before bringing them inside.
He quoted me a time of 40 minutes, and the charge was $64. We were charged $777.60 for the winter tires themselves and installation. We'd expect a few more good seasons out of the Blizzaks, so we expect annual costs to be around $130 to swap tires until a new set is needed.
I walked next door for lunch with my wife, and when we returned approximately 45 minutes later they were just finishing with the BRZ. The winter tires had been wrapped individually in plastic for the drive home and storage.
After a few days of driving on the performance-oriented summer tires I was relieved to feel much of the award-winning handling return to our BRZ. I know the rest of the staff can't wait to drive it like it was meant to be driven either.
Related
Tracking the Fuel Economy of Cars.com's 2013 Honda Civic, 2013 Subaru BRZ
Living Through Winter With a 2013 Subaru BRZ
Research the Subaru BRZ