2013 Honda Civic Versus 2013 Toyota Corolla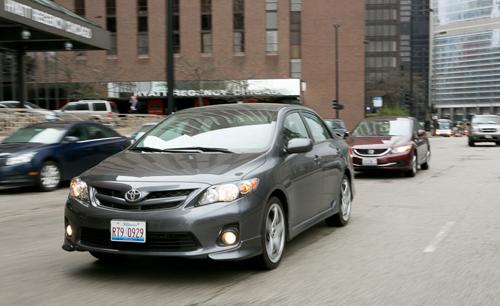 It's a battle as old as time itself ... or at least it seems that way to the people who work at a car research website; Honda Civic or Toyota Corolla? Which relatively bland economy car is the right one?
In February we purchased a 2013 Honda Civic to join our long-term test fleet, and part of our yearlong mission is to pit it against other compacts that come into our review fleet for shorter evaluations.
One such car happened to be a 2013 Toyota Corolla. It had similar miles on it to our Civic, similar equipment — save for ridiculous large wheels with a ridiculously large price tag attached — and an upgraded multimedia system.
On the road, though, there proved to be a stark contrast in performance. Did the recently updated Civic completely trash the soon-to-be-replaced Corolla? Or did Toyota deliver an upset?
Editors Joe Wiesenfelder and David Thomas took the two on a test route around downtown Chicago, its suburbs and highways to find what separated the cars and which compact won in a number of crucial segments.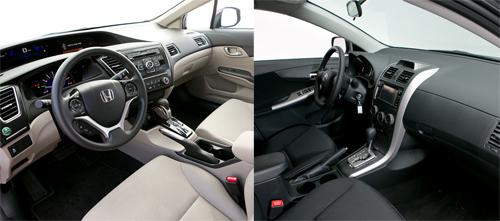 Interior quality: Civic
David Thomas: I'm one of the few people who didn't have a problem with the 2012 Civic's interior. The 2013's interior is even classier, and with the digital screen, it looks cutting edge versus the Corolla.
Joe Wiesenfelder: The Civic's superiority is about materials as much as anything. The bright gauges and displays are upscale, and surfaces are soft where you might rest your arms, unlike the Corolla, which also has crude-feeling ventilation controls from the 1900s.
Handling: Civic
JW: For composure and steering, the Civic has this one in the bag, though it bears noting the Corolla's vague steering has more power assist, which some drivers favor.
DT: I don't think anyone's grandma would have trouble wrestling with the steering wheel of the Civic, and they'd gain its superior handling chops. Easy win.
Braking: Civic
DT: Both cars brake reasonably well. I'd give the slight edge to Civic here.
JW: The Civic's braking is definitely a bit better in normal driving, but in a panic stop, it's much better. The Corolla isn't as stable.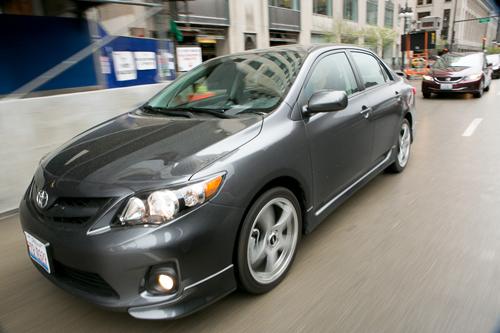 Ride: Corolla
JW: I was surprised to find the Corolla relatively comfortable — not super refined, but more compliant. The Civic's firmness became irritating.
DT: I've been driving the Civic so much lately that it has become a second family car. The ride doesn't bother me, but I'll stand behind Joe's assessment on this one. Corolla gets a win!
Noise: Civic
DT: The Corolla had horrendous engine noise, and you could hear the difference in road noise when we hit the highway. The Civic used to be one of the louder cars in this segment, not anymore.
JW: Honda did a great job with the noise treatments for 2013. In addition to the Corolla's overall noise issues, its four-speed automatic transmission guarantees more dramatic revving than the Honda exhibits.
Acceleration: Civic
JW: For perspective, I don't object to the Corolla's transmission being a four-speed in principle, and I prefer its behavior to continuously variable automatic transmissions (Nissan Sentra) and poorly executed dual-clutch gearboxes (Ford Focus), but it certainly doesn't do much for acceleration or noise.
DT: Neither is fast. The Corolla wasn't as terrifyingly slow from a start as the last one I tested, but again the slight edge goes to Civic for me.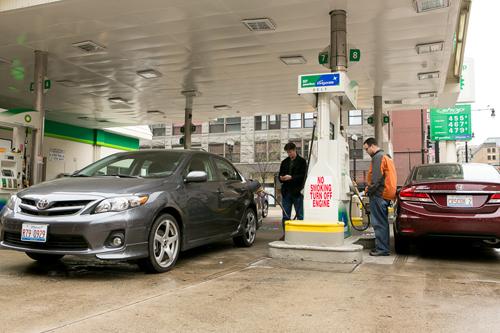 Mileage: Civic
DT: Here we can just let the numbers speak the truth. Both the EPA fuel-economy numbers and our observed mileage on this test went to Civic.
JW: Yep. Lots of factors contribute, but it's safe to assume the four-speed isn't helping here, either.
Seats: Civic
JW: The lumbar support seemed excessive in the Civic, but otherwise they're definitely better seats — more appropriately contoured and with a longer bottom cushion for thigh support.
DT: I liked the Corolla's slightly firmer seats just like some people like rock-hard mattresses. Again, because of my familiarity with the Civic, my finicky back knows the Honda will treat it right.
Multimedia: Civic
DT: Even though this Corolla had a navigation system, which puts it over the top in features, I prefer the look of the Civic's display and the ease of use of those big buttons and knobs.
JW: I agree there, but I can't get past how truly dismal the Civic stereo sounds. Whenever I drive "CRSCOM2," I listen to podcasts because I can't bear how music sounds. It's really an awful system.
In an eight-to-one drubbing, the Civic comes out ahead in this bout. Maybe the next Corolla will put up a better fight. Our Civic will be here waiting.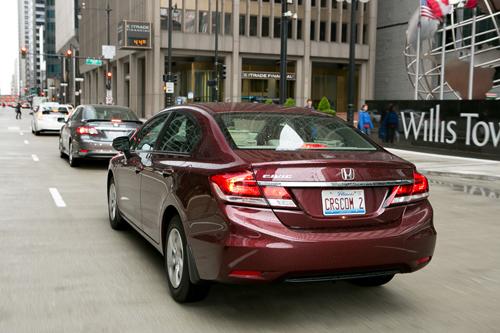 Related
Follow Our Long-Term Fleet
Research the 2013 Toyota Corolla
Research the 2013 Honda Civic