Rear Entertainment Systems Trump Tablets for Larger Families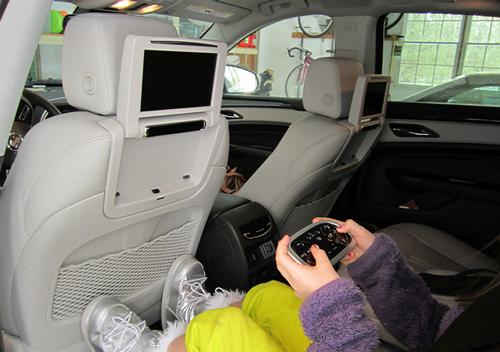 Many have said the age of the in-car rear entertainment system is over. It's all about tablets such as the iPad or Kindle Fire in the car these days.
I disagree. I have three kids and one tablet, and unless I buy two more tablets, which are pricey, the kids have to share. That won't go well. Let's say I do buy a couple of tablets. Sometimes I forget things. Sometimes my children forget things. What happens when only two out of three of the kids remember their tablet? Or only one out of three? There's a lot of whining. There are tears. No good.
For my family, for now, a factory-installed rear entertainment system is our best choice. I'm not alone. GM spokesman Fred Ligouri says demand for the Buick Enclave's rear entertainment system has remained around 25% since the three-row crossover's introduction in model-year 2008. The iPad debuted in 2010.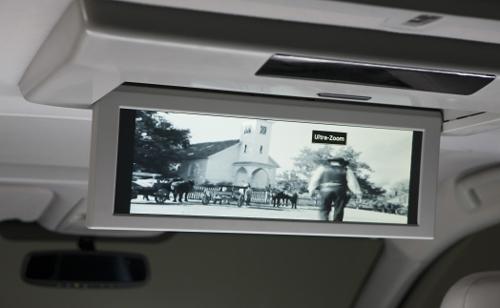 At Infiniti, about 40% of the seven-passenger 2013 JX35 crossovers and 90% of the QX56 have rear entertainment systems, spokesman Kyle Bazemore says.
There are a few things I'd like all automakers to take note of to ensure that those of us who opt for rear entertainment systems remain happy with our choices:
The system must be operable both from the driver's seat as well as with a remote. When a system can only be used with a remote — like many I've run across recently — it creates a frustrating experience for those of us with little ones, who often can't use a remote. To get these remote-based systems to work, I have to pull over and do a back bend from the driver's seat to start a movie.
When it comes to remotes, take a cue from the new Cadillac SRX and make it a gaming-like remote (first photo). While younger kids can't use remotes, their older siblings will have an easier time with these easy-to-operate ones.
Add a USB connection option for entertainment systems. Gone are the VHS tapes; soon the DVDs may go as well. It's all about digital content, and we'd love to easily upload the shows and movies we have in digital form.
Larger screens. The Toyota Sienna's 16.4-inch dual-view drop-down screen (second photo) is at its best when used as a single screen, and it's about twice as big as the screen in my 2005 Sienna. It's great and since I'm feeling greedy, I'd love to see bigger all around — even those on the backs of the front-row head restraints.
Speaking of head-restraint screens, give us a third-row option for them. My third-row-sitting son always complains that he can't see the second row's screen that well. A third-row option would be nice.
If automakers take my suggestions, the rear entertainment system could lead to real conversation and group fun from everyone watching a movie together, rather than staring down at their tablets.
Related
IPad Could Cripple In-Car DVD Sales
What to Do With Your Old iPad
More Family News