2014 Mazda3 Hatchback: First Look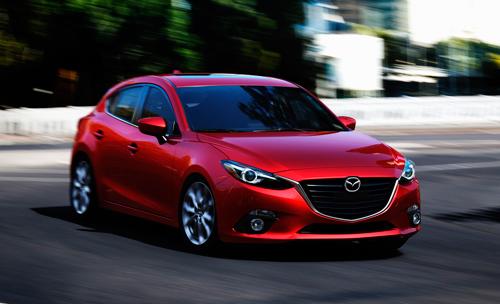 Competes with: Honda Civic, Kia Forte, Toyota Corolla
Looks like: Mazda is keeping styling in the family; the resemblance to the Mazda6 and CX-5 is obvious in the 3's grille and headlight designs
Drivetrain: SkyActiv 155-hp, 2.0-liter four-cylinder and SkyActiv 184-hp, 2.5-liter four-cylinder; six-speed manual and automatic transmissions
Hits dealerships: Early September
Mazda spent 2013 updating its crossovers — the all-new compact CX-5 and revised midsize CX-9 debuted. Model year 2014 is apparently the year of the sedan, with a redesigned midsize Mazda6 on sale and a new compact Mazda3 out soon. Sedan and hatchback versions have been redesigned with more evocative — yet familiar — styling, a revised control layout, additional safety features and a tweaked powertrain lineup. The automaker raised the curtain on the hatchback model first; the sedan will debut in a few weeks, according to spokesperson Jeremy Barnes.
The new hatchback rides on standard 16-inch wheels or optional 18-inch aluminum alloys and is a good mash-up of the CX-5 and Mazda6 styling. The wide-smile grille with angular fog lights, sweeping headlights and crisp body lines are evocative of both vehicles. Mazda says it offers improved visibility, pushing the base of the A-pillars rearward by 3.9 inches and altering the position of the side mirrors.
The 2014 Mazda3 sits on a 2.4-inch-longer wheelbase, but the hatchback is 1.8 inches shorter than the previous generation. It loses 0.6 inches of height but grows 1.6 inches wider. Mazda says the growth spurt translates into more shoulder room for front and rear occupants. Longer rear seatbacks and more sculpted seats should provide more comfort and knee room; the driver's seat cushion is also bigger this year. No word yet on how cargo space dimensions have been impacted.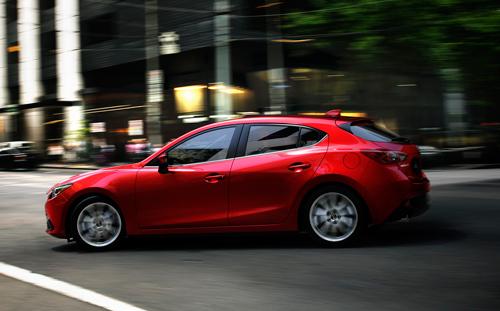 For 2014, two engines will be available. The SkyActiv 155-horsepower, 2.0-liter four-cylinder carries over from 2013 and is the new base engine. It joins a SkyActiv 184-hp, 2.5-liter four-cylinder, which is also shared with the Mazda6 and CX-5. Six-speed manual and automatic transmissions will be available.
Models in global markets will get Mazda's SkyActiv-D 2.2-liter four-cylinder diesel and a hybrid version. Barnes told us that Mazda doesn't have any plans to offer either in the U.S. Mazda is offering some fuel-saving tech on U.S. versions of the 3 in the form of the i-ELOOP regenerative braking system; it stores electricity generated when the vehicle brakes and should boost fuel economy.
Inside, the gauge cluster has been restyled for a sportier look, and there's a new pop-up panel on the center dash to display audio and navigation information. Similar to the setup in the Mazda6, a center-console-area knob controls the panel; it's also a touch-screen.
An updated multimedia system works with smartphone aps like Facebook and Pandora streaming internet radio and features text message functionality; it can read short emails, Facebook updates and text messages to the driver. A new speech recognition system can control the audio functions. An SD-card based navigation system is again optional.
Several new safety features are available for 2014, including blind spot monitoring; lane departure warning; forward obstruction warning; Smart City Brake Support, which automatically readies and applies the brake if a collision is detected at less than 19 mph; radar cruise control; and high beam control, a system that automatically switches the headlights between high and low beams. A backup camera will be available.
Sedan and hatchback versions of the redesigned Mazda3 will go on sale in early September. No word yet on pricing. Check out more photos below.
Related
Research the Mazda3
More Mazda News
Research Compact Cars