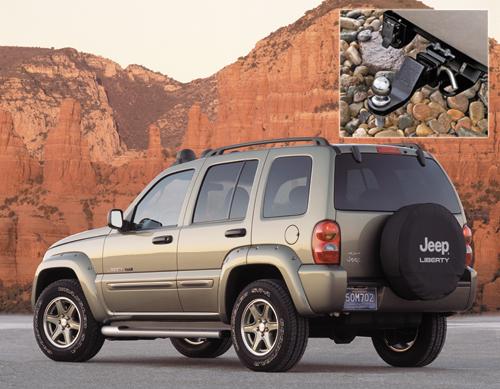 Chrysler announced today that it will launch a campaign to inspect — and if necessary — fix nearly 2.7 million Jeep SUVs that the government claims are unsafe due to a problem with the fuel system that could possibly lead to fires.
Chrysler Says Jeeps are Safe; NHTSA Wants Recall
The vehicles in the action — which Chrysler is not labeling a recall — are 1993-2004 Jeep Grand Cherokee and 2002-2007 Jeep Liberty SUVs. Chrysler will perform "a visual inspection of the vehicle [that] will, if necessary, provide an upgrade to the rear structure of the vehicle to better manage crash forces in low-speed impacts."
According to our sources at Chrysler, the fix will be implemented depending on whether or not the Jeeps have a trailer hitch installed. If a Jeep has a factory-installed or Mopar accessory hitch installed, no enhancements will be made. SUVs without a hitch will get one installed. This is the "rear-end upgrade" being discussed.
A trailer hitch generally includes a hitch receiver, which is a large piece of welded metal that does add strength to a vehicle's structure. A quick search on Mopar's site shows the parts for such a fix cost around $300 for a 2003 Jeep Liberty.
The National Highway Traffic Safety Administration had not suggested a fix. The federal agency generally waits until the automaker determines how to proceed before announcing a formal recall.
Chrysler maintains that there is no defect with the vehicles and that they were built to the same standards as — and performed as well as or better than — competitive vehicles at the time.
Related
More Recall News
Research SUVs
Cars.com News