NADA: Used-Car Price Dip Not Sign of Overall Decline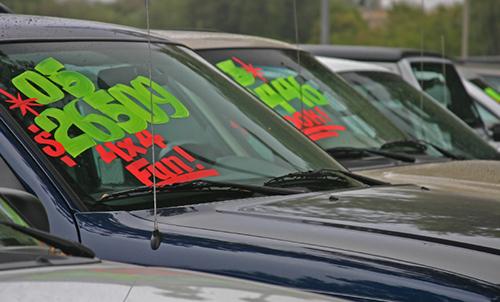 Despite May's 2.1% month-over-month dip in the average price of used cars and light trucks — the largest in seven months — the National Automobile Dealers Association says the used-car market is stable. According to the June edition of the NADA Used Car Guide, the average trade-in price for used cars and light trucks up to 8 years old slipped only $57 to $15,263 in May compared with the same period a year ago.
"A growing supply of 3-year-old vehicles is applying downward pressure on the prices of late-model vehicles," Jonathan Banks, executive automotive analyst for the NADA Used Car Guide, said in a statement. That increase is, in part, due to increased fleet and lease sales after 2009, when new-vehicle sales hit a 30-year low with fewer trade-ins occurring, he said.
Some markets have felt the squeeze of the higher supply more than others, Banks said. NADA estimates the late-model supply of midsize cars, as well as compact and luxury utility vehicles, has increased by an average of 16%, while the late-model supply for the overall market has increased by only half that amount. Trade-ins on midsize cars during the first five months of 2013 depreciated by 2.8% to $12,749, while overall market prices during the same period dipped by less than 2%, and prices for full-size pickup trucks increased 1%. Meanwhile, average prices of used luxury cars and utility vehicles have fallen 3.3% this year.
Banks insists there is little evidence of substantial declines in the overall used-car market. "With gasoline prices holding steady and consumer sentiment at its highest level since 2007, we're expecting an above-average performance in June," he said.
Related
Used-Car Prices Fall to Lowest Level This Year

Used SUV Prices Increase in April as Luxury Cars Fall

More Used-Car News on Cars.com