We Put In-Car Espresso Maker to the Test

Coffee drinkers are a dedicated bunch. But are they dedicated enough to brew on the go?
The idea of an espresso machine designed for the car is so absurd that we had to say yes when Importika, the U.S. distributor of the recently imported Handpresso Auto, reached out and asked if we wanted to test the new cupholder espresso maker. Perhaps most surprising is the French company's crazy contraption actually makes a decent shot of espresso on the go.
Let's back up a minute.
The manufacturer does not recommend using the Handpresso Auto while driving. And frankly, neither do we.
An espresso machine even as tiny as the Auto creates pressure and heat to make the familiar, potent shot of hot coffee. Pressure and hot liquid are best kept in a car's engine and not so close to your lap.
Handpresso pitches the $199 Auto as a solution to boosting energy during a grueling drive or road trip. Just pull over in a scenic area, plug in the cupholder espresso machine and within a few minutes you're back on the road filled with a delicious, creamy caffeinated espresso and a burst of energy. See Handpresso's promotional video here. Good luck trying that on Chicago's Eisenhower Expressway unless you have a personal barista in the passenger seat.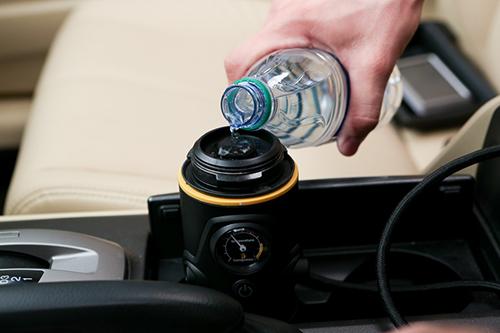 Handpresso's Auto is roughly the size of an extra-large fast-food drink. It actually didn't fit that well in the cupholder when we tested it in a Honda Accord Crosstour. Readying the Auto is fairly simple following the illustrated instructions — the text instructions are less useful — and Easy Serving Espresso (E.S.E.) pods are the flavor vehicles. They fit neatly inside the Auto. Just unscrew to pour in water and place the pod. The pods are sold separately in packs of 18 for around $15 a box. Importika supplied us with dark and medium roasts of Illy-branded E.S.E. pods.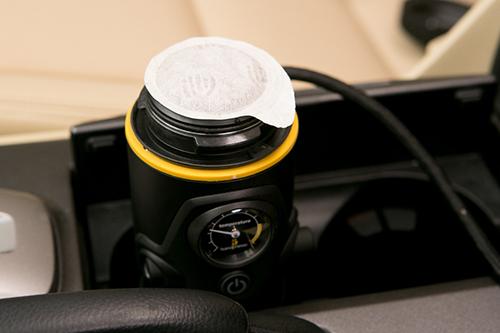 The 140-watt Handpresso Auto sources power from a DC outlet (cigarette lighter), so those thinking the Auto is ideal for a quick midday pick-me-up in the office are out of luck without a power converter. The other reason the Auto isn't ideal in an office environment is because it's loud.
We wonder if there's an attachment for a tire valve stem because the compressor sounded beefy enough to fill a truck tire, and definitely loud enough to make us take a few cautious steps back when we used it for the first time.

There's just one button to press to start brewing, but the cars we tested it in needed engines running to supply enough juice for the process to begin. From start to finish, the gadget takes roughly two minutes to churn out the finished espresso. It was hot enough that steam rose but not too hot where we couldn't drink immediately. Additionally, little spurts of foam spit from the container once the pour completes.
A nice touch. An espresso aficionado on our staff referred to the finished product as "legit."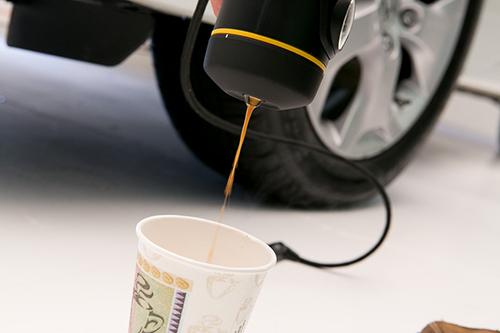 However, Cars.com's multimedia senior editor noted the temperature varied on subsequent batches during a weekend camping trip, ranging from not very hot to piping hot.
Even though buyers shouldn't use the Handpresso Auto while driving, there are still uses for the micro espresso machine — like when there isn't a coffee shop within 50 miles. Taking the Handpresso Auto camping adds a classy touch to the outdoors, and it could even add a new layer of sophistication to tailgating. You'd have to be a regular of both to warrant the cost as well. And expect to receive a new type of ridicule from fellow campers or tailgaters when you disappear to sneak an espresso shot.
Related
Handpresso Brings Espresso Making to Your Cupholder
Fiat Gets Caffeinated
More Car Gadgets