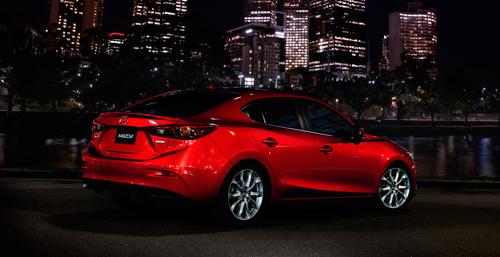 Late last month, Mazda raised the curtain on its
redesigned-for-2014 compact hatchback
, but what about the Mazda3 sedan? More images were released today, and unsurprisingly, the new sedan mirrors its hatchback twin in many ways, including exterior styling and powertrains.
In front, its grille wears the same wide-mouthed grin; there's also the hatchback's angular fog lights, sweeping headlights and defined body lines — all evocative of the larger Mazda6 sedan. The family resemblance is also evident in back, with a curvy rear and integrated trunk-lid spoiler.
The sedan is 180.3 inches long, 1.6 inches shorter than the previous model. Room is only minimally impacted; front headroom is 38.6 inches in the 2014 model, down from 38.9 inches. Rear headroom is unchanged and front legroom grows slightly from 42.0 inches to 42.4 inches.
Shared powertrains include the SkyActiv 155-horsepower, 2.0-liter four-cylinder, which carries over from the 2013 model and is the new base engine. Also available is a SkyActiv 184-hp, 2.5-liter four-cylinder that's shared with the Mazda6 and CX-5. Six-speed manual and automatic transmissions will be available.
The hatchback's interior received a significant makeover, and the same goes for the sedan. Highlights include a sportier-looking gauge cluster and a new pop-up panel on the center dash that displays audio and navigation information. Similar to the setup in the Mazda6, a knob located in the center console controls the panel; it's also a touch-screen.
Sedan and hatchback versions of the redesigned Mazda3 will go on sale in early September. Stay tuned for a photo gallery.
Related
2014 Mazda3 Hatchback: First Look
Research the Mazda3
More Mazda News